Jake Arrieta's troublesome nipple: Why does he touch himself there?
Cubs ace refutes suspicions created over Arrieta's constant adjusting after pitches.
He's not cheating, Cubs ace Jake Arrieta says. He's just tucking his right nipple back inside of his tank top after delivering a pitch.
After the Cubs and Arrieta shut down the Pirates 4-0 in the NL wild-card game Wednesday night, Pittsburgh fans were left asking "Why?," and "Why them?" again. For two straight seasons, they've been shut out in the playoffs for one game and sent home.. A year ago, it was Madison Bumgarner. This time, after the Bucs won 98 games during the regular season, it was Arrieta, who pitched a four-hitter and struck out 11. The Cubs, winning in the postseason. Can you imagine? They must be cheating -- Arrieta must be cheating, a fan charged on Twitter. He's always fumbling with his jersey, going to his cap, touching his belt buckle. What's he doing there? Why is he touching himself like that? What kind of edge does it give him? It's a desperate cry, but one that people make.
Not guilty, Arrieta replied.
My right nipple comes out of my tank top almost every pitch, so I place it back inside. https://t.co/7hXWtKwltE

— Jake Arrieta (@JArrieta34) October 8, 2015
  
It does? He does? It appears he does: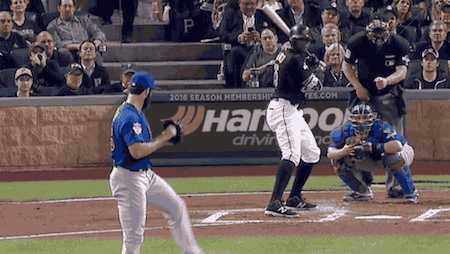 Like many (perhaps most, or even all) other pitchers, Arrieta makes minor adjustments to his uniform whenever he throws a pitch. The movements tend to go unnoticed by most observers, but there are little things that he does every time he delivers. After throwing, Arrieta will tug the bill of his cap, yank his jersey away from his chest and touch the buckle on his belt. This pitch against Gregory Polanco is just one instance from the Pirates game, but Arrieta does makes the same adjustments almost every time in the same way, like it's an obsessive-compulsive deal.
But Arrieta says there's more to it than that. He's talking practicality, with an obtrusive nipple poking through and becoming irritated. So, what does his underwear look like? Is he truthing about his tank top?
October 8, 2015
Well, there it is. Jake Arrieta's right nipple, just like he said. That doesn't account for the bill of his cap, or the belt buckle. It's possible Arrieta could be hiding something both places. But it will be up to the Cardinals to find it, if they want to look there.
CBS Sports HQ Newsletter
We bring sports news that matters to your inbox, to help you stay informed and get a winning edge.
Please check the opt-in box to acknowledge that you would like to subscribe.
Thanks for signing up!
Keep an eye on your inbox for the latest sports news.
Sorry!
There was an error processing your subscription.
The A's will also furlough may baseball operations employees

The game's highest-paid players reportedly would get less than 25 percent of their original...

The league shared its economic proposal with the MLBPA on Tuesday afternoon
There's not a lot of support going around

The MLB Players Association is not pleased with the latest plan from owners
The MLB commissioner was asked plenty of questions about the Astros on Sunday

The results of the BBWAA vote for the 2020 Hall of Fame class were announced on Tuesday