Jake Peavy could be traded, but Red Sox aren't giving up on season yet
The Red Sox could trade veteran righthander Jake Peavy, but that wouldn't necessarily signal a wholesale selloff.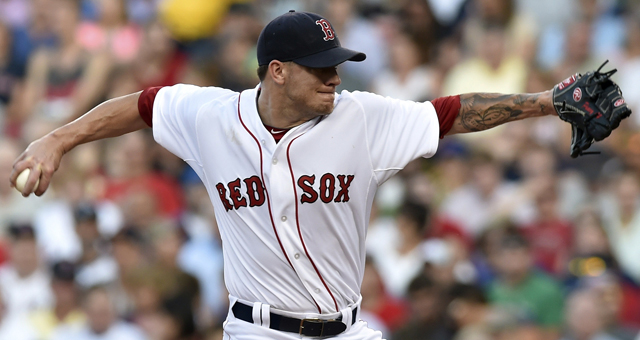 More MLB: Trade Market Stock Watch | A's land Samardzija, Hammel | Latest news
The Red Sox talking potential trades for a veteran starter sure looks like the start of a selloff, as some have suggested.
Not necessarily. Or at least not yet.
The Red Sox are indeed in talks with a few teams, including the Cardinals, with Jake Peavy and other names coming up. But that doesn't necessarily mean the Red Sox are waving the white flag.
Boston wouldn't mind using talented rookie Rubby De La Rosa in the rotation, and Peavy is currently blocking his path. Additionally, Peavy, a loser of seven straight (though much of that is due to a lack of support) may frankly be better suited to go back to the NL at this stage of his career.
While the defending World Series champs are struggling, and could end up having to conduct a more extensive sale later, word is they aren't yet prepared to give up in a surprisingly unimposing AL East. That could change if the slide continues, but don't expect them to shop stars like Koji Uehara or even pending free agent Jon Lester anytime soon.
Boston could consider isolated deals, though, as in the case of Peavy, who could be rejuvenated back in the NL. Even closer to his prime, Peavy had often been tied to St. Louis, as a town and organization he likes.
The Red Sox could also consider deals for change-of-scenery candidates such as Felix Doubront and Will Middlebrooks -- though, while they've fielded a lot of interest in Middlebrooks they are reluctant to give up on the powerful 25-year-old third baseman.
Pravy's old friend A.J. Pierzynski would seem to be another trade candidate with top catching prospect Christian Vazquez perhaps ready, though it's questionable whether Pierzynski has much of a market during his tough season.
Does the Jackson signing mean the Giants are out on Lorenzo Cain?

Acuna edged out Shohei Ohtani and Vladimir Guerrero Jr.

There's no reason to run over the cases for and against Bonds, so let's have fun instead
The coveted right-hander would certainly be a fit in Milwaukee

We rate the best mustaches from random baseball cards because, why not?

Colon wants to break a Dennis Martinez record