Jake Peavy discusses knife injury
Jake Peavy sliced his hand open with a knife over the weekend. He explained Monday to reporters what happened.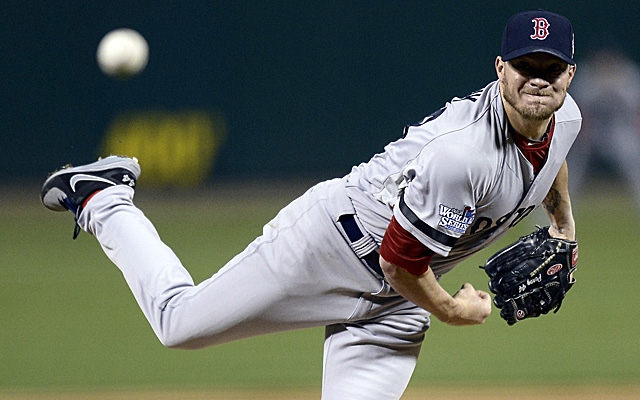 More MLB: Spring training | Scoreboard | FA: Position players | FA: Pitchers
Red Sox starting pitcher Jake Peavy is one of the early leaders for the weirdest off-field injury this spring. He lacerated his non-pitching hand with a knife while getting ready to go fishing with his 5-year-old son.
Allow Peavy to explain, via Boston.com: 
"Just getting ready to go fishing ... promised my little boys I'd take them fishing. Went over to Bass Pro and bought them some rod and reels and they were combined. Just tried to cut them, because they were wire-tied, using my knife.

"With my right hand holding the rod, with my left holding the knife and when I broke the wire tab it (the knife) just stuck my knuckle pretty good," Peavy explained.

Peavy said he struck a vein and he bled pretty severely all over his shorts. He said he and his boys went to John Lackey's house, where he discarded the bloody shorts for a new pair.

"It's a bummer," Peavy said. "I didn't think it was that crazy bad to the point where I didn't seek medical attention that day. We wrapped it up and went fishing. Came back here yesterday and realized we needed to have it stitched up and we needed to take some precautionary measures because we didn't want to risk infection."
The impact on Peavy being ready to start the season with the Red Sox should be minimal, considering the cut is on a knuckle on his left hand. The biggest issue is keeping the wound clean underneath his glove.
Bigger takeaway: If you've ever cut yourself and felt like an uncoordinated buffoon, a Cy Young winner and three-time All-Star just did the same thing.
Molina's deal expires after the 2020 season

Sheffield has the numbers to make it to Cooperstown, but he has received very little suppo...

Granderson heads north of the border for his age-37 season
What did the Pirates get in return for their franchise player?

Rivero could remain in Pittsburgh for some time to come

The White Sox, Angels, Athletics, Orioles and Marlins are the holdouts after Blue Jays fol...