James McCann hits bird with foul ball (WARNING: graphic video)
Unlucky shot sends feathers flying and the stunned bird into the lap of a fan attending the Detroit Tigers-Atlanta Braves Grapefruit League game near Disney World in Lake Buena Vista, Fla.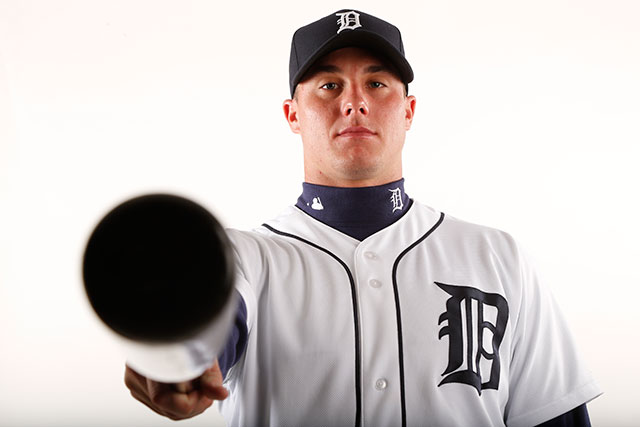 James McCann of the Detroit Tigers ruffled a few feathers Friday — literally — when he hit a foul ball that struck a bird perched atop the backstop behind home plate, knocking the animal into the lap of a fan sitting below.
For baseball fans and bird watchers, the incident is a reminder of the time years ago when Hall of Fame left-hander Randy Johnson obliterated a bird mid-flight with a fastball at spring training.
Word from the ballpark, reports James Schmehl of MLive, was that the bird survived the trauma. Although, after seeing the video posted by WDIV Local 4 in Detroit, it's hard to imagine that the bird could live for long. (Also, note the creepy funeral home music at the video's onset.)
McCann was batting in the first inning against Mike Foltynewicz of the Atlanta Braves when he fouled off a pitch perhaps 40 feet in the air and just to the right of home plate at Champions Stadium at the ESPN Wide World of Sports Complex in Lake Buena Vista, Fla. — the campus of Walt Disney World. It wasn't much of a feel-good Disney moment.
From MLive:
"I saw everyone making a big commotion, and obviously people were still yelling when I stepped back into the box," McCann said. "But I had no idea what happened."

McCann said he didn't see his first-pitch foul ball strike the bird, and was later informed by umpire Joe West following his at-bat when he reached first base on a single.

"(West) said he didn't know what was funnier," McCann said, "seeing the bird get hit or the woman's reaction when it landed in her lap."
McCann couldn't believe the bird's bad luck.
"It's never good to have something die that doesn't deserve to die," said McCann, who said he didn't want to make light of the incident. "But what are the chances?"
Yes, not to make light of it, but... it was an exhilarating moment for some fans in attendance. Karen Collins said it was "worth the price of admission":
McCann just killed a bird with a foul ball. #Tigers #unbelivable # RandyJohnson moment

— Karen Collins (@Coach_K_Collins) March 13, 2015
And, when something traumatic happens, people often turn to gallows humor to get them through:
@IngramRadio Just found this picture of James McCann's car after killing that bird in the first... pic.twitter.com/gReLiVFN9R

— Rob Jenners (@RobJenners) March 13, 2015
Again, word from the ballpark is that the bird (somehow) lived. Not all baseball birds have been as fortunate:
Check out an unusual coincidence from another game — note the Yankees lineup for today. It has a different McCann (Brian) followed by a player with a pertinent last name:
1.Ellsbury, CF 2.Gardner, LF 3.Headley, 3B 4.Beltran, DH 5.McCann, C 6.Bird, 1B 7.Judge, RF 8.Refsnyder, 2B 9.Gregorius, SS #Yankees in 2016

— Cody Derespina (@CDerespina) March 13, 2015
McCann. Bird. Forever linked. We leave you with this:
Dioner Navarro still hopes to return someday

Christian Yelich's agent says his client's relationship with Marlins is 'irretrievably bro...

The free-agent market has been slow and one player is bracing for an even longer wait
The Mets didn't want to trade a young outfielder for an older one

Josh Harrison doesn't sound pleased Gerrit Cole and Andrew McCutchen have been traded away

The team's media contracts expire following the 2019 season