James Shields' value to Royals has gone far beyond his innings
The Royals traded for James Shields hoping he could help turn them into winners. They believe now that he has.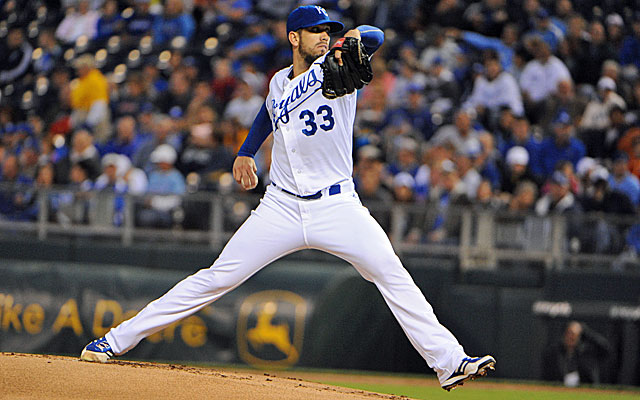 KANSAS CITY, Mo. -- I'm not sure how this should figure into WAR.
I'm not sure how you give it any kind of a number.
I do know that if you're trying to calculate James Shields' value to the Royals, there's no way you can ignore this:
"He's completely turned this clubhouse around," Mike Moustakas said Tuesday.
When the Royals made the big (and somewhat controversial) trade for Shields last winter, they wanted his 200 innings. But they also wanted more.
They've gotten 213 2/3 innings so far, the most in the American League (and Shields' seventh straight season of 200 or more). And they've gotten more.
It's not at all common for a starting pitcher to emerge as the most vocal leader on a team, simply because he only takes the mound every fifth day. But Royals players and coaches say that while they have multiple leaders in this bounce-back season, Shields' voice is the most influential in the clubhouse.
"He's made these guys believe that no matter who we're playing, we're playing to win," pitching coach Dave Eiland said. "He doesn't only engage other pitchers. He's influenced everyone. He's brought other guys out of their shells."
Shields got credit with the Rays as the leader of their strong rotation, but the Rays had other strong voices in the clubhouse (Johnny Damon, Cliff Floyd, Eric Hinske in various years). When he came to the Royals, Shields understood that he was the successful veteran in the room.
"I've experienced things in this game that a lot of guys in this clubhouse haven't," said Shields, who went to the playoffs three times and to the World Series once with the Rays.
The Royals remain a longshot to get to the postseason this year, but Shields has brought a sense of toughness to this team that has made them tougher to write off. It's hard to know what the changed culture will mean going forward, but it should be easy to understand that after years and years of losing, it needed changing.
"He's got that aura, that voice," said Billy Butler, a Royal since 2007. "His intensity is motivating. He just does things so loud that the whole darned stadium can hear him."
What has it meant in terms of wins? I'm not sure there's any way to put a number on it.
But if you spend any time around the Royals, it's hard to believe that it doesn't mean something.
Chad Green won't be available in Game 7 and David Robertson looks worn down

Cora, the Astros bench coach, is the hottest available managerial prospect

The Yankees and Astros close out the ALCS on Saturday, and each side has pros and cons going...
Who will win Game 7 of the ALCS on Saturday night? SportsLine has a strong lean on one sid...

The Astros find themselves looking to complete a comeback in the series at home

The Astros scored seven runs in Game 6 after scoring nine runs total in Games 1-5