Jason Castro overcomes 2011 knee injury to become an All-Star
Astros All-Star catcher Jason Castro's development hit a road block when he suffered a serious knee injury in spring training 2011.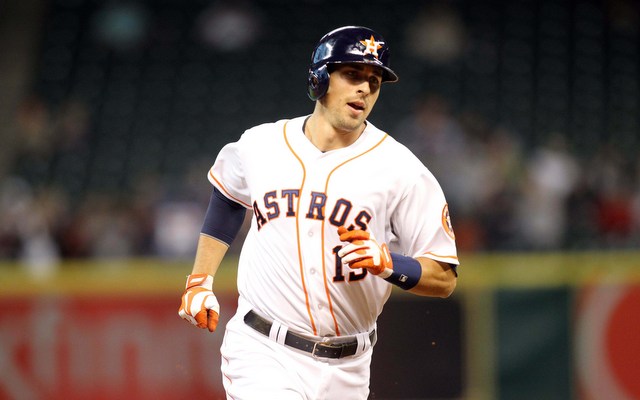 More All-Star: Delabar: From sub. teacher to All-Star | Fernandez: From Cuba to All-Star
NEW YORK -- Two years ago, Astros catcher Jason Castro spent his All-Star break rehabbing from a serious right knee injury. He tore his ACL and meniscus simply running to first base in spring training, the spring training before what was supposed to be his first full season in the big leagues.
"It means a lot [to be an All-Star this year]," said Castro on Monday. "I had to go through a pretty grueling rehab process just to get back on the field. It was a pretty significant injury. And if I played any other position, I probably would have been back sooner than I was.
"Having been a catcher and taking my rehab to the point where I had to be completely normal and 100-percent comfortable catching, it was tough and it took a lot longer than I expected it too. It was tough."
Castro, 26, was the 10th overall pick in the 2008 draft. He had made his MLB debut in the second half of the 2010 season. And though Castro didn't hit much in 67 games (58 OPS+), the rebuilding Houston team was prepared to hand him the catching reins before the injury. It was going to be the opportunity of a lifetime.
"One thing I really tried to make sure of during the rehab process was not to get too caught up in the long term," he said. "I really tried to break it down into smaller components, to focus on those things. Otherwise, you could be pretty overwhelmed."
The injury, surgery and subsequent rehab process kept Castro sidelined for the entire 2011 season. He had a full spring training in 2012 and made the team out of camp, but cartilage damage in the knee sent him to the DL for a month in the middle of the year. Castro made sure to do all that he could this past offseason to get ready for the upcoming season.
"I had a full offseason to prepare myself for spring training," he said. "I really just focused on getting into the best shape I could and really getting comfortable to the point where, no matter what I do athletically, it was a non-issue with my knee and I wasn't thinking about it or worrying about how I would feel the next day."
Finally healthy, Castro comes into the All-Star break hitting .269/.331/.475 (120 OPS+) with a career-high 12 home runs in 81 games. He ranks fifth all among all catchers at 2.3 WAR, second in the AL behind only Joe Mauer. Castro isn't a token All-Star, someone who is here only because each team must send someone. He's a legitimate All-Star and one of the best backstops in baseball.
"I'm not going to lie; there were some times [I thought I would never catch again] when my rehab would kinda stall and not progress week by week like it would in the early stages," said Castro. "Anyone who's had an ACL surgery and a meniscus repair knows it's a frustrating rehab. It's a long time to be incapacitated. To be able to get past that and be here now is a great feeling."
Verlander has been dominant this postseason, but who has the edge going into Game 6 of the...

New York's DHs started the postseason a combined 0 for 28

According to Tracy Ringolsby of Baseball America, MLB may be considering a bold plan
It all starts on the mound, but here is Houston's road map to a decisive seventh game

The Nationals once again failed to get past the NLDS round in the playoffs

The process for determining home-field advantage in the World Series is different in 2017