Jason Heyward says there's no timetable for his return
After being hit in the jaw -- and breaking it -- last week, Braves outfielder Jason Heyward says there is no timetable for his return.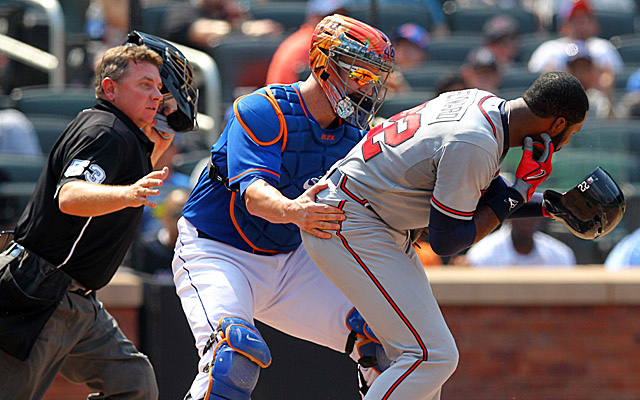 More MLB: Scoreboard | Standings | Probable Pitchers | Sortable Stats | Odds
After getting hit by a pitch in the face, Braves outfielder Jason Heyward suffered a broken jaw. Initial estimates pegged him at a four-to-six week timetable, but they were merely that. Estimates.
"I don't have a timetable for you," Heyward said, via Associated Press. "I don't know if it's going to be sooner. I don't know if it's going to be later. I don't know how long it's going to take to heal. But I know as soon as possible I'd like to be playing baseball."
Heyward took the 90 mile-per-hour heater to the jaw last Wednesday. Tuesday, he joined his team for the first time since being hit. Per an AP report, Heyward's jaw was "slightly swollen." He'll be re-evaluated by a specialist on Thursday.
Heyward is considering wearing a guard on his helmet upon his return in order to protect his jaw.
"I have to be smart and understand that it's a broken jaw," Heyward said (AP). "It's not just a broken finger or anything like that. So if I do get hit again, if I don't let it heal, that's my mistake. But you have to be smart about it. I want to start the timetable of playing again as soon as possible. I'll just have to wait and see what the doctor says."
Losing Heyward was a big blow for the Braves, as he was on fire at the plate, hitting .357/.426/.607 with six doubles and five homers in his last 94 plate appearances -- a span that came shortly after his move to the leadoff spot in the order.
It's been a rough season in terms of freak injuries for Heyward, as he also missed 22 games in April and May after needing an emergency appendectomy.
Neither Josh Donaldson nor Brian Dozier have talked about a new contract extension

Francisco leads the Dominican Winter League with seven home runs

Thome deserves enshrinement and here's why the case against him does not hold up
The Twins have already fortified the bullpen with Addison Reed, and now they want to address...

The Orioles likely want pitching, and the Indians have plenty of it

Halladay died in a November plane crash off the coast of Florida