Jason Kipnis, Carlos Santana come through for child
An 8-year-old with cerebral palsy asked Jason Kipnis and Carlos Santana to each hit a home run for him Saturday. They both did.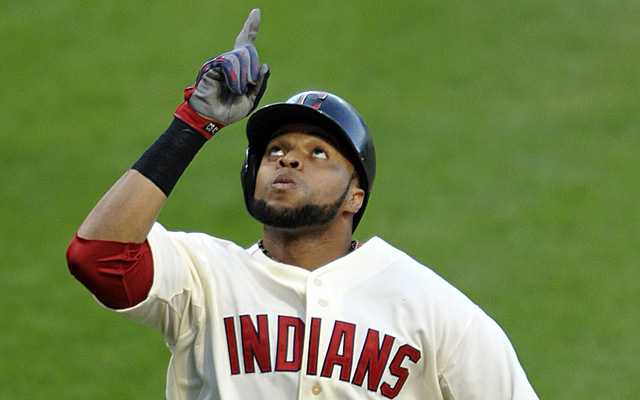 Niko Lanzarotta is an 8-year-old Cleveland Indians fan with cerebral palsy. Saturday before the Indians' tilt with the Twins, Niko and his family were fortunate enough to be on the field during batting practice. And Niko got to meet two of his favorite players: Jason Kipnis and Carlos Santana.
He asked them to each hit a home run for him during the game. And they both delivered, en route to a 7-2 victory.
"He must be a good luck charm for us," Kipnis said via Associated Press.
Too bad he doesn't attend games more often, because the AP reports that the Indians are now 6-0 in games Lanzarotta has attended.
Santana actually has the billing of being Niko's favorite player.
"They told me I was their favorite player, and I promised to hit a home run for him," Santana said.
"It was an awesome experience," Mike Lanzarotta said. "It was the best day of his life. To meet Carlos, to be that close, and for him to hit a home run. ... To see your kid that happy is a great thing."
Outstanding story. Good for the kid and good on the Indians. This is the type of thing we see in movies or TV shows.
The free agent first baseman may be a fit in St. Louis

The front office changes in Atlanta continue

The Marlins are more likely than you think on our list
Judge finished a distant second in the balloting and he paid respect to the winner

Stanton just won the 2017 NL MVP award but could wind up being dealt this offseason

Altuve is the second Astros player to win a league MVP award