Jays are suggesting they won't let Farrell go to Boston, but they should
Word is going around that Farrell's stock isn't so high in Toronto after bad year. So why not at least listen to what the desperate Red Sox have to say?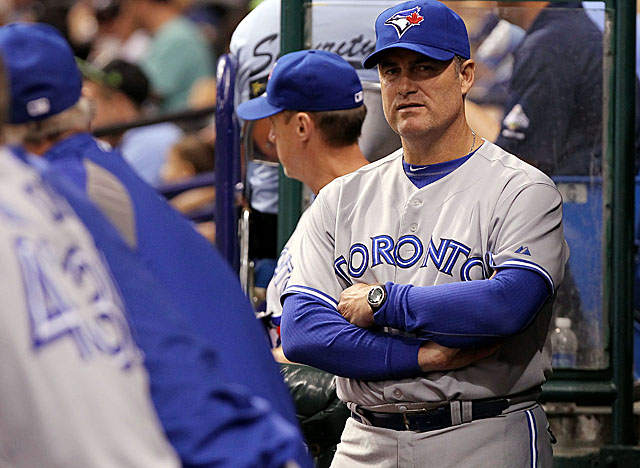 The Red Sox have Farrell in their sights, even though the Jays went 73-89 this season. (US Presswire)
Blue Jays people are still suggesting to reporters and baseball people behind the scenes that they have no intention of letting their manager, John Farrell, go to the rival Red Sox.
That's a fine stance to take. But it only makes sense if they absolutely love Farrell as their own manager long-term, and there seems to be some question as to whether they do.
The Blue Jays made it policy last year when the Red Sox came calling for Farrell that they don't allow their employees to move for lateral jobs. Actually, that very policy came about precisely over Boston's original interest in Farrell.
"Everyone knows our policies,'' Jays GM Alex Anthopoulos texted a few days ago in response to the question about whether they might grant permission this time for Boston to talk to Farrell.
Other Jays people are saying flat-out they won't let Farrell leave. They aren't necessarily saying they love the job Farrell is doing, mind you. But they are suggesting they aren't about to let him go to Boston.
If that's so, the question then becomes: Why the heck not?
Anthopoulos is correct that their policy is well-known by now. But exceptions sometimes should be made.
This is one of those times.
Boston's Farrell fixation feels like more an opportunity than an annoyance. Boston is once again said to have Farrell at the top of their managerial wish list, no matter that Toronto finished only three games ahead. The Blue Jays went 73-89 this year, four games ahead of the last-place Red Sox.
What's more, word is getting around that the Jays front office is less than completely enamored with Farrell. And vice versa.
"They should absolutely make the deal,'' one competing GM opined about Farrell to Boston. "I think they will.''
Sirius/XM broadcaster Jim Duquette reported that he'd heard there was a "disconnect'' between Farrell and his front office, and while Farrell denied that, as he absolutely had to, several people around baseball suggest things are less than perfect in that relationship. But if things were perfect between a manager and front office at a time a team so starkly underachieves, that would mark one of the first times in baseball history.
(It's possible things are more copacetic than you hear in Toronto, but of course, it isn't worth asking: there's no way any Jays person could ever publicly admit there's any sort of issue, especially if there's any hope of obtaining a haul from Boston.)
Perhaps the Jays are simply starting the negotiation with their current stance that Farrell is staying put. And perhaps they'll loosen that policy.
In any case, between the Farrell contract that only has one year to go on it, the Blue Jays'  disappointing season and the Red Sox's odd fixation on Farrell, the Blue Jays owe it to themselves to listen to any trade offer Boston might make for Farrell. To stick to the policy and not at least listen to offers would be tantamount to refusing a free gift.
Farrell may not be long for the Jays, anyway. He'll go into 2013 as a lame duck provided that they don't extend him, and why extend someone you're supposedly not thrilled with?
Maybe the Jays do wind up extending Farrell if they believe Boston's assessment. But if you don't think he's great, why not simply saddle the rival Red Sox with him, and receive some compensation in the form of players for him for your trouble?
It's been reported the Jays would have wanted young pitcher Clay Buchholz for Farrell last winter. And one Red Sox person has said he isn't even sure that would have gotten it done.
But if things haven't changed for Toronto after its poor season, maybe they should. If the Red Sox are desperate, the Jays absolutely need to listen.
The compensation may wind up being pretty good, too. After their protracted, conflicted managerial search last year, Red Sox GM Ben Cherington, who it said will make the call this time, still won't want to take a candidate to Boston's ownership that they may very well reject. Cherington knows Boston's owners love Farrell as much as he does.
Boston's leading triumvirate of John Henry, Tom Werner and Larry Lucchino last year rebuffed former Red Sox coach Dale Sveum, who wound up being hired in Chicago by ex-Red Sox execs Theo Epstein and Jed Hoyer. Cherington probably doesn't want to have a repeat rejection.
The Red Sox are also said to have a desire to hire one of their own after their big-name outside hire Bobby Valentine didn't work to their liking. Red Sox people, and that means both the front office and ownership, recall Farrell as a very smart guy who aided their young pitchers and has a presence about him.
But if reports are true that the Jays aren't quite as high on him at the moment, they ought to let him go. Or at least listen to what Boston has to say.
A beardless Wilson says that he tried to outrun the police on the second day he had his driver's...

The Diamondbacks outfielder was not impaired, he was just going way too fast

MLB can unilaterally implement rule changes, which will also include limits on mound visit...
If the MLBPA wants to repair MLB's salary structure, it should push for more money for young...

Fans aren't happy Gerrit Cole and Andrew McCutchen have been traded away

Acuna is arguably the best prospect in baseball