Jays have some company looking at Ubaldo in his mysterious market
The Orioles and perhaps the Mariners appear to be competitors for Toronto in the Ubaldo Jimenez derby.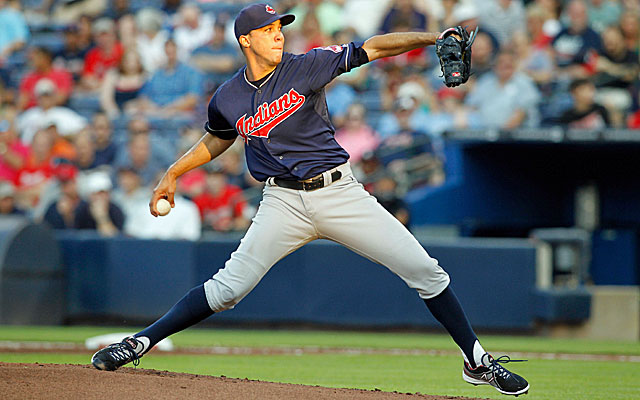 MORE: FA tracker: position players | FA tracker: pitchers | More from Heyman
Veteran right-hander Ubaldo Jimenez, one of five top free agents still looking for a team, is drawing interest from the Orioles, and perhaps also the Mariners, in addition to the Blue Jays.
The Jimenez market has been mostly a mystery since it was said by a source familiar with his situation that he was being pursued by the Jays and two other unnamed teams. One of those teams is likely the Orioles, and another could well be the Mariners. It isn't known whether more teams have joined the fray since that comment was made a few weeks back.
All three of those teams -- Baltimore, Toronto and Seattle -- were also reported here Saturday to be looking at Ervin Santana, the other free-agent pitcher.
General managers seem to suggest the price for these two pitchers could fall somewhere between the $33 million, three-year deal Kyle Lohse signed last year and the $50-million, four-year deal Matt Garza signed this year. While Garza had more physical questions than the healthier Santana and Jimenez, Garza did not have a draft choice attached to him, which is viewed as a major advantage in free agency these days.
There's been some speculation that one or more of the top free agents may wait through spring training (and maybe even the early June draft) before signing, but one GM said assuredly that that won't be the case with Jimenez and Santana. "They'll sign," that GM predicted.
The top five free agents (also including Kendrys Morales, Stephen Drew and Nelson Cruz) all have a draft choice attached to them, meaning the signing teams will lose a pick.
The Indians have had some interest in Jimenez if the market fell from the expected prices, but there's been no contact lately with Cleveland and that possibility is seen as a "long shot" now. The Rockies, one of a number of other teams known to have checked in on Santana, didn't do so with their former star Jimenez, who had a bad breakup with the team after his trade to the Indians and is said to be "not a fit."
No, you're not imagining things. This MLB offseason has been very slow compared to the last...

Francesa will retire from radio next month, so he'll have plenty of free time next summer

Get your sports fans something that they'll wear all year
Get 15 percent off any order of more than $75 at CBS Sports Shop

The Twins need help in the rotation, and they may look to the trade market to find arms

Here are the bullet-points of what went down Tuesday regarding MLB and the Braves' punishm...