Jays' hot start reason for optimism, not celebration in Toronto
The Blue Jays have seen promising starts evaporate before, but in an apparently weakened AL East, this one may keep going.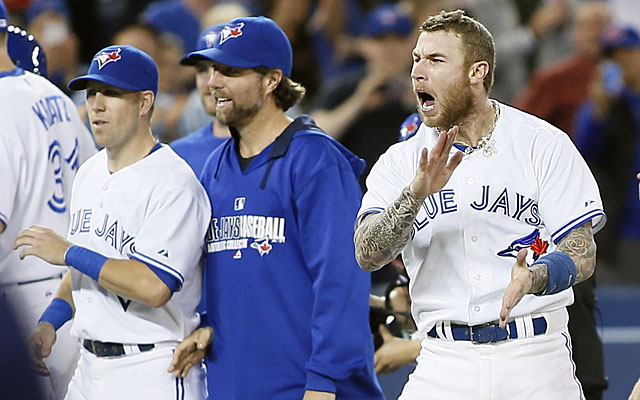 More MLB: Power Rankings | Expert Picks | Latest news & notes | Fantasy news
Of all the first-place teams, the biggest surprise has to be the Blue Jays. After a mostly quiet winter following their disappointing 2013 season and big trade with the Marlins, hardly anyone saw this coming.
The bigger question, of course, is whether they can keep it going.
"I'm holding my breath," said Jays general manager Alex Anthopoulos, who has lived through a few disappointments before and has a sense of humor about it.
That includes the '13 season, when very little went right, or as expected. The Jays did win 11 straight games at one point and still managed to implode.
"Exactly ... and we saw how that worked out," Anthopoulos responded when the early '13 winning streak was mentioned to him.
"I'm just trying to ignore it, and not get emotionally involved," Anthopoulos added, continuing his abject honesty. "I've had my heart broken way too many times."
It could happen again, of course. And while the Jays' ninth straight victory Wednesday, coming as it did on a bunt and an error in a game where the Rays outplayed them, may have been somewhat flukish, most of the rest of the start may not be.
There are no guarantees, of course, but the signs are very positive so far.
The Jays entered the season in a seemingly tough spot, in what was considered baseball's best division. But in a switch the AL East is not living up to that status. The usual powerhouse teams are either currently afflicted by injuries or under-performance, allowing the Jays to forge a three-game lead over the Yankees, who have done a nice job just to be where they are considering all their aches and pains.
The Jays, meanwhile, are playing terrific baseball. Their lead is no accident.
• Jose Bautista and Edwin Encarnacion are two great players having extremely good years. Encarnacion is the MLB home-run leader in May with 14, and @JoeyBats19 would be the league MVP so far with a league-leading 44 walks and .434 on-base percentage, plus 12 home runs, a .301 batting average and .962 OPS.
• Jose Reyes' return has been huge. While some have wondered whether the Toronto turf is good for him long-term, he is back and healthy and helping the Blue Jays by providing a homer-reliant offense with speed and hits. He's hitting .342 after recording at least one hit in 18 of the past 19 games.
• They are doing some little things for a change. It isn't all about the dinger. "It feels like we have a complete offense," Anthopoulos said.
• Mark Buehrle, who has had a very nice career with special moments like two no-hitters (one was a perfect game) may be having a career year. He's 9-1 with a 2.33 ERA, and while his 1.23 WHIP is only 21st in the league, Buehrle is one who outperforms that stat by holding on runners and fielding his position better than anyone in baseball.
• The big trade that brought Reyes and Buehrle for several big prospects looks better for them today (it also looks good for the Marlins, who offloaded dollars and added to their stock of young talents with Henderson Alvarez, Adeiny Hechevarria and many prospects). Anthopoulos said they did that deal in part because Bautista and Encarnacion are in-their-prime stars under good contracts and they didn't want to waste their main years and have top talents who didn't get to enjoy the playoffs such as Roy Halladay and Carlos Delgado. In Anthopoulos' mind, they needed to either enhance their chances now, or "go the other way," and trade their stars.
• The team that posted the second-worst starters' ERA in 2013 (behind only the unfathomably bad Twins' starters last season) is currently fifth best in the league at 3.75 (with the most starters' wins, 26). That one puts a smile on Anthopoulos' face. "I'm a big believer in starters' ERA correlating to won-loss record," the GM said.
• Dioner Navarro has been a surprise upgrade at catcher, and Anthopoulos said he thinks he has been good for Buehrle, an early Cy Young contender.
• Cost-efficient pickup Juan Francisco has joined the power brigade. That one's at least a surprise.
• Closer Casey Janssen's return has been a major boon. He's fooling opponents again, with nine scoreless outings out of nine so far. "He doesn't have closer stuff but he does have closer mentality," one scout said. And the bullpen overall is far less taxed than last year, when it was overused early. The Jays' pen has been used for 3.21 innings per game, and eight AL teams have used their pen more.
It would be easy to assume the Jays will lose steam, or fold, based on preseason predictions or their history. But beyond all the positives about the Jays, there are all those worries about their AL East rivals, which may in fact be the best thing they have going for them.
It's easy to see why Jays people aren't clearing space for their divisional trophy just yet. But there is plenty of reason to hope.
Harrison has a thing for ending no-hit bids

Hill was close to perfect across regulation but it turned out to be all for nothing in the...

Plus Hank Aaron weighs in on Colin Kaepernick, Trevor Rosenthal hits the DL, and more
Davis should help fortify the Red Sox outfield

Whether or not Mike Matheny will adjust is to be seen

Hammerin' Hank wants to see Kaepernick get another shot in the NFL