Jays in waiting game: Santana, Ubaldo, Samardzija, Drew in play
Toronto looks well positioned to score late in the free-agent game.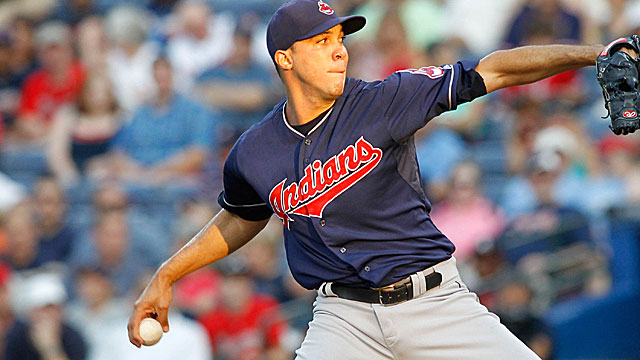 As spring training approaches, the Toronto Blue Jays look like the team best-positioned to make an impact move. They could easily wind up making more than one big, late move, in fact.
Multiple impactful starting pitchers of interest remain -- most prominently free agents Ervin Santana and Ubaldo Jimenez, plus trade candidate Jeff Samardzija -- and with the Blue Jays' two No. 1 picks both protected from loss related to free-agent signings, they could potentially pick up one, or even both top free-agent hurlers, without substantially hurting their draft situation. They would lose only a second rounder if they were to sign a protected free agent.
One executive who knows Jimenez well says the urbane right-hander would be a good fit for Toronto, a place some others are loathe to play. The same may be said for Santana, who's mature and battle-tested after pitching his first nine years in the AL.
The Blue Jays, whose big move to date was signing catcher Dioner Navarro, also have their eye on top shortstop Stephen Drew as a possible surprise second-base alternative, though he's probably somewhat more likely to sign with the Yankees, Mets or incumbent Red Sox at this point.
Young Jays GM Alex Anthopoulos may be ahead in the waiting game at the moment, but there's also pressure to win in a difficult division with the World Champion Red Sox and rich Yankees, and it's fair to say the Blue Jays aren't always a free agent's first choice. So it'll be interesting to see if Anthopoulos can make a dent in the stated pre-winter hope to sign one or two front-line starters.
That wasn't a shocking goal, of course, as Toronto's 4.81 rotation ERA in 2013 was better in baseball than only the Twins, who remade their rotation by signing several new starters, including Ricky Nolasco and Phil Hughes.
The Blue Jays are remaining in contact with Santana, Jimenez, the Cubs (on Samardzija) and Drew, though they may still be hoping for the price to drop a bit more. Two rival GMs suggested they believed Jimenez may now be willing to sign for a three-year deal (three for $39 million, one suggested), so perhaps there is some progress on that front. Santana is believed to be still seeking a deal for five years, though a good four-year arrangement could do the trick.
"Everyone's price is coming down," one rival GM predicted.
While neither Santana nor Jimenez has named an exact asking price, it was believed at least Santana sought five years. His expansive, impressive promotional book concludes with the assessment that, based on his durability and performance, plus past signings, he carries a value of $112.57 million over five years. Though that figure isn't positioned as the exact asking price.
Jose Bautista is one of the Jays said to be promoting a signing of Santana, a very durable and consistent pitcher whose agents make a very good case that he's a lot better than you'd think. Stats in the Santana book show he's in the top 30 percent of all starters in 12 of 15 important categories in 2013, an excellent platform year where he was tied for ninth in quality starts in MLB with 23 (with Chris Sale, Hisashi Iwakuma and other bigger stars), and tied for eight in "strong/dominant" start percentage at 59.4 percent (with Yu Darvish, Jordan Zimmerman and Max Scherzer) and surprisingly high in many other categories, as well.
What's also surprising is that fine pitchers such Santana and Jimenez are without signed agreements as February approaches.
The Orioles have interest, but they are especially skittish about surrendering their No. 1 pick (No. 17 overall). The Mariners are eying most remaining free agents while the Dodgers are listening since losing out on Masahiro Tanaka. The Diamondbacks have checked in on most pitchers but also prefer not to give up draft choice. The Yankees and Twins have already done a lot of work this winter but have at least checked in, as well. There are many bottom feeders trying to get in the game, too.
Plus, the incumbent teams (Santana's Royals) and (Jimenez's Indians) would be interested if nothing great materializes for them.
That's where the Jays might come in, though. They appear to be waiting for the right price.
What that is isn't exactly known. While a lesser pitcher Nolasco received $49 million for four years, and the less durable Matt Garza, who like Nolasco wasn't encumbered by a qualifying offer and thus the loss of a draft choice, got $50 million for four years, plus a vesting option.
The draft choice seems to be more of an issue than one would think for many of these teams. While the draft has been derided as a "crapshoot" in the past, with as few as 50 percent of first-rounders historically even making the majors, many teams seem to fear surrendering their pick.
Kyle Lohse was the test case last year, and Lohse wound up signing a $33 million, three-year contract last March 25 with the  Brewers, a deal owner Mark Attanasio made without the recommendation of GM Doug Melvin and loves to this day. Though comparable pitchers such as A.J. Burnett and John Lackey got $82 million, five-year deals a few years ago, the loss of a draft choice now seems to be a major issue for free agents given qualifying offers who aren't quite in the superstar category.
The Jays also have been in contact regarding Drew, though he'd have to play second base for them and would seem more likely to take a shortstop job. They'd have less need at the moment for Kendrys Morales or Nelson Cruz, but with plenty of money left, the Jays probably shouldn't be considered out of it on anyone. They might have to trade Adam Lind to concern a move for a big hitter, though.
Plus, pitching remains the key area of concern. On that score, it would be surprising if the Jays came away empty-handed.
Toronto may be hoping that the draft concerns of other teams ultimately leads to it getting one big bargain -- or maybe even two or three.
CBS Sports HQ Daily Newsletter
Get the best highlights and stories - yeah, just the good stuff handpicked by our team to start your day.
Please check the opt-in box to acknowledge that you would like to subscribe.
Thanks for signing up!
Keep an eye on your inbox for the latest sports news.
Sorry!
There was an error processing your subscription.
Arizona locks down an important asset through the 2021 season

It's Game 1 of the World Series, here's everything you need to know

The Red Sox ace sounds ready to go against the Dodgers
The postseason is underway and the World Series starts Oct. 23

Will the Dodgers or Red Sox prevail in the 2018 World Series?

The 2018 Red Sox are heavy on players who were acquired through the draft and in trades