Jayson Werth's quietly spectacular season
Jayson Werth is among the top four in the NL in batting average, on-base percentage and slugging percentage. Anyone notice?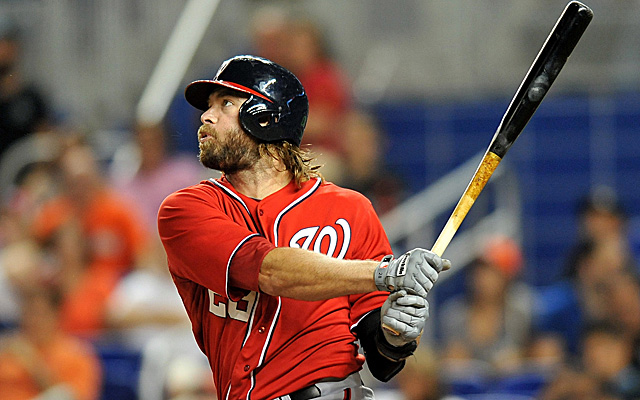 More MLB: Scoreboard | Standings | Probable Pitchers | Sortable Stats | Odds
Though the Washington Nationals are still simply on the periphery of the playoff race, they remain one of baseball's biggest flops this season -- considering they entered as World Series favorites. Yes, the Giants and Angels have disappointed to greater extents, but that doesn't let the Nationals totally off the hook.
Not that any of it has been the fault of highly-paid veteran Jayson Werth, as he's enjoying perhaps the best season of his career.
When Werth signed his seven-year, $126 million contract before the 2011 season, it was widely panned. When he went out and hit .232 that season -- keep in mind this was a 32 year old with a seven-year contract -- many declared it one of the worst signings of all time. Werth was the headliner that offseason of every "bad contract" list, including one I did myself.
I'm still not confident Werth making $21 million per season in his each of his age 36 through 38 seasons will be anything short of an albatross, but we have to credit him this season just as much as we piled on in 2011, because he's been outstanding.
Entering Tuesday, Werth is hitting .324/.398/.534, good for a 155 OPS+ (that is, adjusted for ballpark, his on-base percentage plus slugging percentage is a whopping 55 percent better than the league average). The only NL player with a better OPS+ is MVP frontrunner Andrew McCutchen. Werth ranks third in average, fourth in OBP and third in slugging in the NL.
Also, despite having only played 111 of the Nationals' 143 games, Werth is tied for eighth in the NL with 22 homers. He also ranks ninth in runs created -- an advanced metric created by Bill James to measure the overall impact of a player on his team's runs scored for the season.
And what an impact he's had. The Nationals are 59-51 in games Werth starts and 15-18 when he doesn't. He's not the only reason there's a difference, but there's no doubt he's a significant cog, especially since many of the Nationals' struggles this season have stemmed from an inability to score runs in close games.
He definitely isn't going to run down strong MVP consideration, as Werth's RBI total (69) and run total (72) are too low at this point. Still, if the Nationals make a late push for a playoff spot and even come within a few games -- and Werth keeps hitting like this -- he should probably come up with his best finish ever (he came in 8th in 2010).
Harrison has a thing for ending no-hit bids

Hill was close to perfect across regulation but it turned out to be all for nothing in the...

Plus Hank Aaron weighs in on Colin Kaepernick, Trevor Rosenthal hits the DL, and more
Davis should help fortify the Red Sox outfield

Whether or not Mike Matheny will adjust is to be seen

Hammerin' Hank wants to see Kaepernick get another shot in the NFL