Jeff Kent had a Hall of Fame bat but not much else
Jeff Kent has the offensive numbers for the Hall of Fame, but context and the remainder of his game make his case a suspect one.
We're zeroing in on the Jan. 6 reveal of the BBWAA 2016 Hall of Fame class, one certain to include Ken Griffey Jr. and maybe another player or two. As we lead up to the announcement, CBS Sports' Eye on Baseball scribes are running through the serious candidates one day at a time. Up this time is Jeff Kent.
More HOF: One-and-dones | Kendall | Griffey | Hoffman | Edmonds | Wagner | Trammell | Smith | Garciaparra | McGwire | Sosa | Clemens | Bonds | Schilling | Martinez | Mussina | Walker | McGriff | Sheffield
Kent, now 47, spent parts of 17 big-league seasons with the Blue Jays, Mets, Indians, Giants, Astros, and Dodgers. Over that span, Kent batted .290/.356/.500 with 2,461 hits, 377 home runs, 560 doubles, 1,518 RBI and 1,320 run scored. Of his 19,059 2/3 career defensive innings, 17,055 2/3 came at second base. Kent made the All-Star team five times, won four Silver Sluggers and was voted NL MVP in 2000. On three other occasions, he finished in the top 10 in the MVP balloting.
Kent's also in the top 100 all-time for home runs (73rd place), total bases (64th), doubles (26th), RBI (51st), extra-base hits (41st), and sac flies (23rd). Of his 377 home runs, 351 came while Kent was playing second base, which is an all-time record for second basemen by a comfortable margin. It's also worth noting that Kent's 9,537 plate appearances rank just outside the top 100 all-time, and that's despite him spending so much time at a position known for wearing down its practitioners. Also worth mentioning are Kent's strong career numbers in the postseason: .276/.340/.500 with nine home runs in 49 games. Three of those home runs came in the 2002 World Series, during which he slugged .621. Simply put, Kent produced at a high level for a middle infielder, and he did so for a long time.
Kent's detractors will point to his defensive shortcomings, and characterizing him as a defensive liability squares with both the numbers and the informed eye-test. In terms of WAR, Kent cost his teams roughly four wins over the course of his career with his glove-work. Obviously, his bat was more than potent enough to make up for that, but it does take a bite out of his overall value. He's in the top-100 all-time when it comes to offensive WAR, but in total WAR his defense and base-running drop him to 144th all-time among position players and 229th among position players and pitchers.
There's also the fact that Kent put up his numbers in a high-offense era. That's baked into WAR, of course, but it bears further emphasis. Run scoring took off in 1993, not long after Kent made his debut, and ranged from 4.60 runs per game (RPG) to 5.14 RPG over the span of his career. To put this in context, in 2015 MLB teams averaged 4.25 RPG. When it comes to OPS+, which is OPS adjusted to reflect park and league conditions, Kent's career mark of 123 was impressive, but it also ranks just 246th all-time.
That plus the lack of any sort of skyscraping peak is why Kent, according to Jay Jaffe's JAWS system, grades out as falling short of the established standards for Hall of Fame second baseman.
All of that plus, perhaps, some questions about Kent's attitude during his playing days, have conspired to keep his Hall support at low levels during his time on the ballot. In 2014, just 15.2 percent of BBWAA voters put Kent's name on the ballot. Last year, that figure fell to 14.0 percent. The low starting point plus a lack of momentum plus just eight more appearances on the ballot (counting 2016) adds up to precious little chance of Kent making it. If you're someone who prioritizes total player value over offense in isolation, then this sounds about right. There's an argument to be made that any player who puts up those kinds of power numbers while playing a premium position merits induction, but that argument isn't winning right now.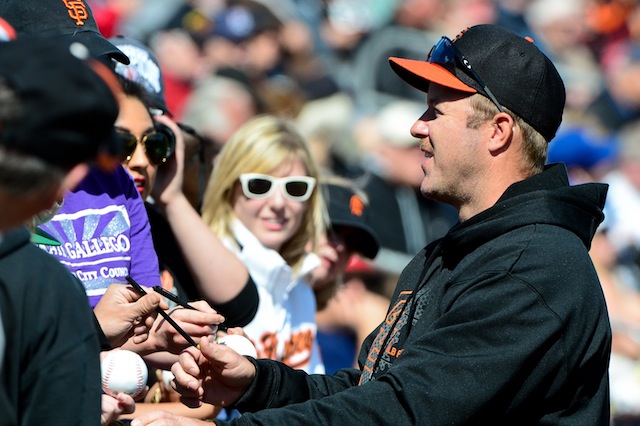 CBS Sports HQ Daily Newsletter
Get the best highlights and stories - yeah, just the good stuff handpicked by our team to start your day.
Please check the opt-in box to acknowledge that you would like to subscribe.
Thanks for signing up!
Keep an eye on your inbox for the latest sports news.
Sorry!
There was an error processing your subscription.
Gray had a disappointing 2018 and will now find himself with the Reds as he heads into his...

Here are the latest hot stove rumblings

The NL Central rivalry between the Cubs and Cardinals is already heating up
Who knew that a weather forecast could captivate so many baseball fans?

Find out when your favorite team will begin spring training this year

Longoria said it's a 'shame' top players still aren't signed