Jeff Locke will not pitch Sunday or in All-Star Game due to sore back
Pirates left-hander Jeff Locke will not make Sunday's scheduled start or pitch in Tuesday's All-Star Game due to a sore back.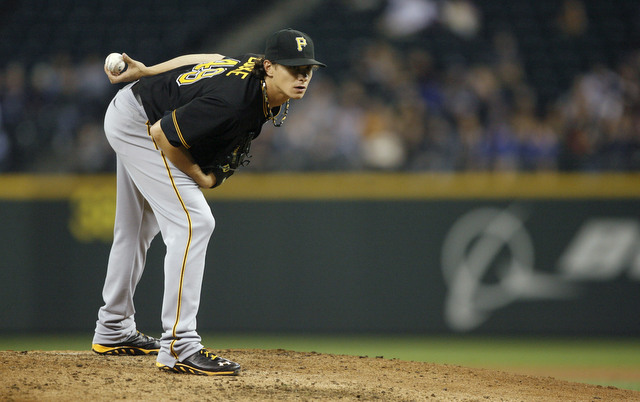 More MLB: Scoreboard | Standings | Probable Pitchers | Sortable Stats | Odds
Left-hander Jeff Locke will not make his scheduled start for the Pirates on Sunday against the Mets due to a sore back, according to the Associated Press. He also will not pitch in Tuesday's All-Star Game.
"It hasn't happened before; that's why I'm speechless," said Locke. "I've never had anything pop up like this."
Locke, 25, said he first felt some discomfort late in his Monday start against the Athletics. The symptoms lingered, and it flared up again during a recent workout session. He went through his normal side work on Friday and Saturday before the team decided to skip his spot. Gerrit Cole will start instead.
In 18 starts this year, Locke has a 2.15 ERA and 1.13 WHIP despite a subpar 1.55 K/BB. He has thrown 109 innings after making 10 starts and two relief appearances for Pittsburgh 2011-12.
NL All-Star Game manager Bruce Bochy of the Giants will be able to replace Locke on the roster for the Midsummer Classic. The southpaw will travel to New York for the game and is expected to make his next start on July 21.
"The only thing I'm disappointed about is not being able to go [Sunday]," he said. "It's not one of those things where I can't go [Sunday] but I can go in the All-Star Game. I think it'd be disrespectful to the team. I don't think it's even questionable ... I'll just go there and enjoy it and come back after the break."
Cole, 22, has gone 4-2 with a 3.68 ERA in six starts for the Pirates. The first overall pick in the 2011 draft was called up when lefty Wandy Rodriguez was placed on the DL last month.
We rate the best mustaches from random baseball cards because, why not?

Colon wants to break a Dennis Martinez record

The Twins have been rumored to be interested in Darvish all winter
Rolen is one of the best third basemen of all time, but you wouldn't know it based on this...

Neither Josh Donaldson nor Brian Dozier have talked about a new contract extension

Francisco leads the Dominican Winter League with seven home runs