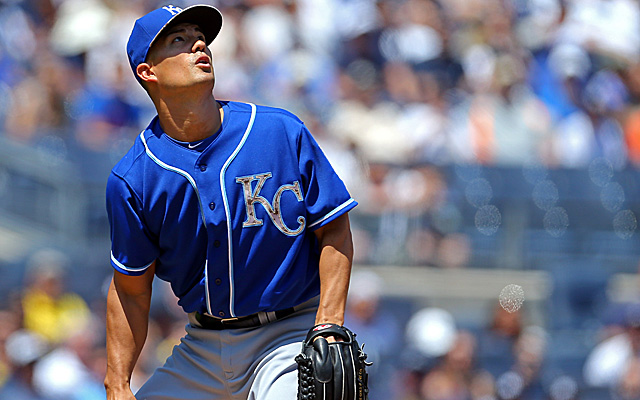 Royals starting pitcher Jeremy Guthrie joined a dubious list Monday. He entered the game against the Yankees with a 4.75 ERA and left with a 6.70 ERA.
The ugliness in line form:
1 IP, 9 H, 11 ER, 3 BB, 1 K
Four of those nine hits were home runs, too.
This was one of the worst outings in MLB history and there's no hyperbole here. Prior to Monday, there were 13 outings since 1914 in which the pitcher allowed at least 10 earned runs while recording no more than three outs (baseball-reference.com play index). The last time was Charlie Morton in 2009. If we pared the list down to at least 11 earned runs in one inning or less (again, that's by number of outs recorded -- as I'm well aware that Guthrie allowed three of the runs in the second inning), here we are:
11 or more earned runs, three outs recorded or less
Name
IP
ER
HR
Date
Jeremy Guthrie
1
11
4
5-25-2015
Jason Jennings
2/3
11
2
7-29-2007
Bubba Harris
2/3
12
0
7-4-1948
Hal Kelleher
1
12
0
5-5-1938
That's it. Awfully small and dubious list.
The Yankees entered Monday having lost six in a row and 10 of their last 11 and were tasked with facing the team with the best record in baseball. And they had basically won the game with zero outs in the second inning. Gotta love baseball. Or hate it, depending upon your point of view.