Jesus Montero gets to camp needing to lose weight
Jesus Montero is coming off a disaster of a season, and now he's shown up to camp overweight.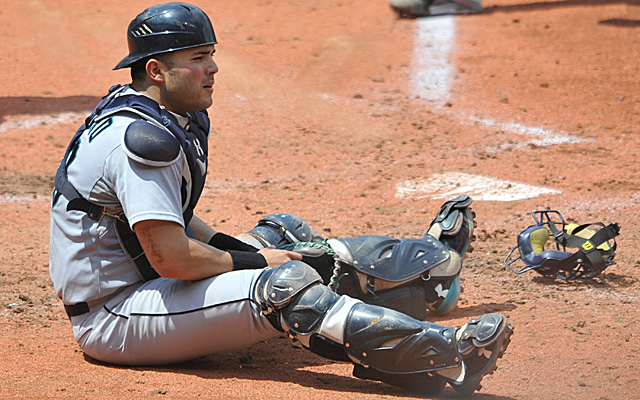 MORE: FA tracker: position players | FA tracker: pitchers
Mariners catcher/DH Jesus Montero is coming off a season in which he hit .208/.264/.327 (69 OPS+), was demoted to Triple-A and then was suspended for 50 games for his ties to the Biogenesis scandal.
Under the circumstances, one might think that Montero would show up to spring training in tip-top shape.
One would be wrong.
Montero is coming off knee surgery, but he played 22 games in Venezuelan Winter League and reports no problems with the knee. Then again ... (via thenewstribune.com)
"I gained a lot of weight in my country," he admitted. "So, now, I'm on a program to lose weight. I'm working really hard to get my weight back. I wasn't doing nothing (after finishing winter ball), just eating."
Really? Seriously?
The dude was once a top-10 prospect in all of baseball and has been a flop in the majors -- colossally so last season. He's now coming off a suspension that paints him in a pretty negative light among fans and his peers alike.
And yet instead of pulling a Panda in the offseason -- look at Mr. Sandoval! -- he's sitting on his butt and getting fat instead of working hard to show up to camp in shape with something to prove? For the millions of us who love baseball and weren't blessed with the talent level Montero was, that's pretty maddening. For his teammates and bosses, though, it's gotta be even more infuriating.
Hat-tip: Hardball Talk
Harrison has a thing for ending no-hit bids

Hill was close to perfect across regulation but it turned out to be all for nothing in the...

Plus Hank Aaron weighs in on Colin Kaepernick, Trevor Rosenthal hits the DL, and more
Davis should help fortify the Red Sox outfield

Whether or not Mike Matheny will adjust is to be seen

Hammerin' Hank wants to see Kaepernick get another shot in the NFL