Jesus Montero will catch more with Miguel Olivo's injury
The knock against Jesus Montero has been his defensive ability at catcher, but with Miguel Olivo headed to the disabled list, Montero will be counted on to be the Mariners' primary catcher.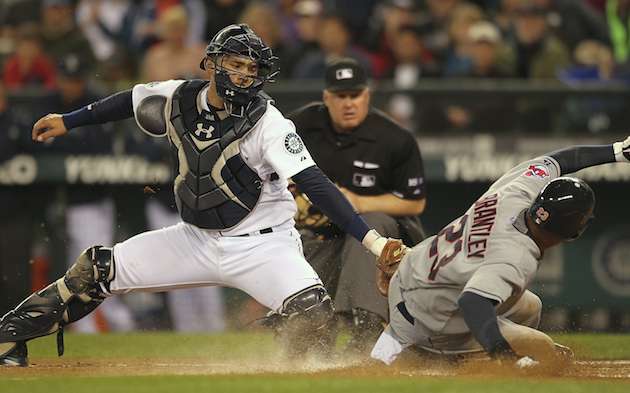 Ever since
Jesus Montero
emerged as one of baseball's next great players, he's been dogged by the question of whether he can be an everyday -- or at least primary -- catcher. It looks like we'll get to see if he can handle it, even if it's on a temporary basis, as the
Mariners
are expected to put catcher
Miguel Olivo
on the disabled list after suffering a groin injury on Monday night at Tampa Bay.
Olivo got his foot caught on the Tropicana Field turn as he fielded a nubber by
B.J. Upton
with one out in the ninth inning, resulting in a groin injury.
"I tried to be aggressive, the way I am, and make that play at first base. My leg stuck in the grass and I felt a pop in my groin," Olivo
told Geoff Baker of the Seattle Times
. "I know that feeling. I know my body. I have to be honest with myself. I know it's not going to be easy. It's hurting and real painful."
Olivo missed three weeks last spring after suffering a groin injury, but said Monday's was worse.
Olivo is hitting just .210/.229/.346, but hit his third homer in five games in the second inning of Monday's game. He was also in the midst of an eight-game hitting streak. He was hitting just .125/.143/.167 through his first 15 games of the season.
The injury to Olivo means a lot more Montero behind the plate. Montero replaced Olivo in the lineup on Monday, but was already serving as the team's DH, meaning the team gave up the DH. While Montero ostensibly will garner most of the catching time,
John Jaso
, who had yet to appear in a game as a catcher this season, will also fit in behind the plate. Jaso started 67 games at catcher for the
Rays
last season and appeared in 15 more. He's served as the Mariners' DH four time this season,with five hits in 18 at-bats, including a homer, a double and a triple. Manager Eric Wedge said the team would likely recall outfielder/DH Mike Carp instead of another catcher, such as Guillermo Quiroz.
Montero, the man sent to Seattle by the
Yankees
for Michael Pineda, has started five of the team's 24 games behind the plate and 16 as a designated hitter. The 22-year-old is hitting just .259/.271/.420 with four home runs so far this season. It will be interesting to see how he reacts to playing more defensively. Last season, he served as a catcher in 88 of his 109 games at Triple-A Scranton/Wilkes-Barre, hitting .288/.348/.467 with 19 home runs. He played 105 of his 123 games in 2010 as a catcher, hitting .289/.353/.517 with 21 home runs. Some players struggle with the move to DH and do better when they can get in a rhythm of fielding and hitting. On the other hand, catching can take its toll physically on a player.
There's no doubt that Olivo is a better defensive catcher than Montero, but this could be the type of audition the Mariners need to see what they really have in Montero.

Minnesota has designs on the best starting pitcher available on the free agent market

The Cardinals have long coveted the Miami outfielder

The superstar slugger is eligible for free agency after next season
The veteran second baseman remains a useful regular

The Indians may be seeking a left-handed hitter in return

NBC Sports California has cut ties with the former A's slugger after a string of inappropriate...