Jeter takes live BP, fields grounders for first time since lost 2013 season
Derek Jeter was limited to only 17 games by a series of leg injuries last year, but he started to work his way back with his first full workout of the offseason on Monday.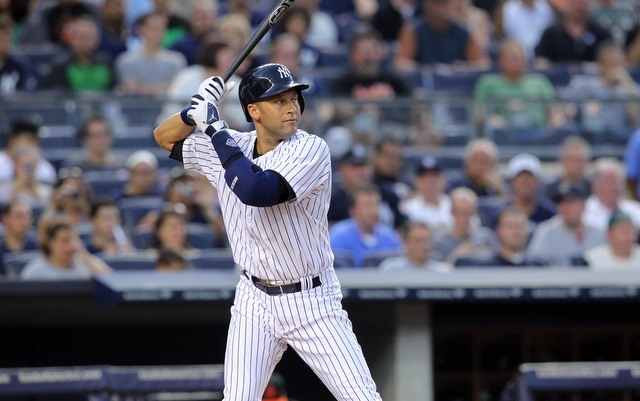 MORE: FA tracker: position players | FA tracker: pitchers
A series of leg injuries, including a fractured left ankle and subsequent setback, limited Derek Jeter to only 17 games last season. His comeback started in earnest on Monday as he took live batting practice and fielded ground balls at the Yankees minor league complex in Tampa, according to Associated Press.
"Everything is good so far, knock on word," Jeter said. "This offseason is like a normal offseason. I'm four months ahead of where I was last year. Last year, quite honestly, I want to forget about it."
Jeter, 39, had been taking swings off a tee and fielding grounders on the infield grass in recent weeks, but today was the first time he performed a full complement of baseball activities. He shattered his ankle during the 2012 ALCS and had the start of his 2013 delayed by the setback. Calf and quad problems followed.
"My job is to be ready to play," Jeter said. "I remember when I was 35, everyone said that was it. He can't play anymore. End of my career. So, it's really nothing different. Eventually, somebody is going to be right, you know what I mean? You're going to run out of numbers."
Jeter hit .190 in his 17 games last season, making four trips to the DL. He hit .316/.362/.429 (114 OPS+) with 15 home runs and an MLB-best 216 hits in 2012, so you don't have to go back very far to find the last time he was an effective player. Still, given his age and the severity of his injuries, Jeter will have a lot of doubters heading into 2014.
The Yankees signed Brendan Ryan to a two-year contract earlier this winter as a backup plan at shortstop.
We rate the best mustaches from random baseball cards because, why not?

Colon wants to break a Dennis Martinez record

The Twins have been rumored to be interested in Darvish all winter
Rolen is one of the best third basemen of all time, but you wouldn't know it based on this...

Neither Josh Donaldson nor Brian Dozier have talked about a new contract extension

Francisco leads the Dominican Winter League with seven home runs