Jeter's had perfect career, doesn't need to hang on one more year
History says only two men have had excellent seasons as 40-year-old shortstops, and neither had suffered a broken ankle at 38.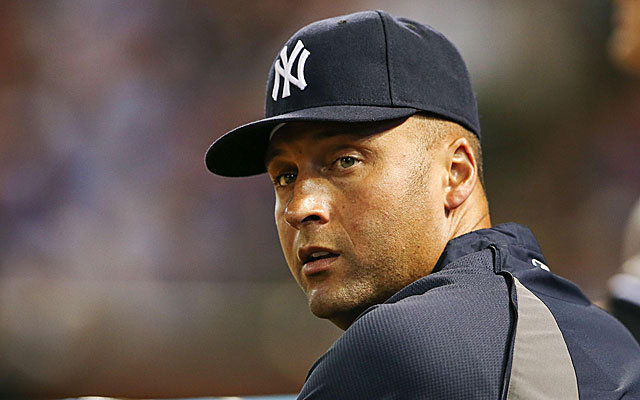 Derek Jeter and the Yankees did the prudent thing by calling it a season for him Wednesday after the latest setback in a season of them. And now perhaps he should seriously considering calling it a career.
No one wants to admit that's a possibility -- not today, not yet.
But realistically, it seems unlikely that Jeter, an all-time great, could ever come close to approaching his own standard of excellence. At this point, after a season filled with starts and memorable stops, and ultimately only 17 games played, it seems a stretch to even think he could even be a starting shortstop again.
No one wants to see the great Yankees captain leave. But does anyone want to see Jeter -- who has made 13 All-Star teams and won five World Series rings -- hang on as a utility man?
Sure it would be disappointing -- even disheartening -- to have a wonderful storied career end like this. But this year, when Jeter managed to play only 17 games, shouldn't detract one iota from one of the greatest careers in the history of the Yankees and baseball.
He probably saw his chance to get close to 4,000 hits when he returned to All-Star form in 2012, but there's no shame at 3,316. It's been a marvelous run in every way imaginable.
Jeter has made a career out of beating back critics and outperforming expectations. So maybe he does it again. But now's no time to count on that.
The day he was drafted, folks questioned whether the skinny kid from Kalamazoo was really a shortstop, then again when he made 50-plus errors one of his first years in the minors, they questioned him again. But eventually, his heart and determination ruled the day, and he played his way into an iconic career. No Hall of Fame player squeezed more out of his talent than him.
If he retires without playing another game, he goes out an all-time Yankee, their all-time hits leader, by far. If he ranks a bit below Babe Ruth overall, and maybe Lou Gehrig, Joe DiMaggio and Mickey Mantle, too, that's no shame. He's certainly somewhere in the top six, with Yogi Berra being the sixth man in an oft-debated question of greatness.
Of course, no one official is saying anything of the sort today. Jeter's career has been about greatness. It also has been about beating back the critics and the doubters.
"I have not watched his last game,'' Yankees GM Brian Cashman told writers in Baltimore. "No one has."
"He's a warrior,'' Yankees president Randy Levine added by phone. "He's one guy I wouldn't count out."
All that is true.
And perhaps Jeter will indeed rise again to re-enact a career that's enjoyed several parts, one seemingly more spectacular than the next. No one expected him to return to become the best hitting shortstop in 2012, at age 38, after sliding in parts of the previous two seasons, and he did just that, batting .316 to lead the team into the playoffs when he broke his ankle in Game 1 of the ALCS against Detroit.
So maybe he can again.
But history doesn't provide much hope.
Jeter will turn 40 next year, an age at which 99 percent of shortstops are retired. Only Luke Appling and Barry Larkin had seasons at 40 that come close to Jeter's standard, and really only Appling. Larkin hit .289 in 346 at-bats at age 40 in 2004 for the Reds. Appling hit .300-plus at age 40 and again at age 42.
Several shortstops had nice years at age 39, from Omar Vizquel to Rabbit Maranville to Ozzie Smith to Honus Wagner to Luis Aparicio. But 40 has been something of an historic wall for shortstops, the position after catcher that takes the most pounding.
Larkin and Appling are amazing -- and basically alone -- to play productively at 40. But neither of those two Hall of Famers did it while recovering from a broken ankle. And Jeter is still recovering.
The Yankees will suggest the bone is strong now and the rehab just didn't allow him to get into shape. But an ankle injury is deadly serious for a ballplayer. Stephen Drew and Kendrys Morales, two men in their 20s, had a devil of a time coming back from similarly broken ankles.
Jeter's past miracles may have worked against him here. Based on his history of quick healing, the Yankees accepted his ambitious plan to try to return for Opening Day. Then, once that became an impossibility, he was shooting for mid-May, then June 1.
Things kept getting pushed back to the point where it finally started to sink in that age eventually hits everyone (though maybe not Mariano Rivera as much as others).
Jeter's history was that he always thought he could play through injuries, and he almost always did. It tells you quite a bit that eventually he stopped arguing strenuously to conservative estimates of returns. It seemed at times like the rehab and all the many returns sapped his strength.
There's no indication at all that Jeter is seriously thinking about retiring, and you just know he's not going to want to go out like this. He saw his friend Andy Pettitte return from retirement, and even a year off, and he saw him generally perform well this year at age 40, well enough to go 10-9 and help keep the Yankees afloat in a wild-card race still open.
And Jeter saw Rivera return after a serious knee injury to perform very well -- and become the All-Star Game MVP -- at age 43.
But Jeter had an even worse injury, and he plays shortstop. This is a whole different story, a whole different ballgame.
It would make a nice story to see Jeter find any shortstop success at 40, and maybe join Larkin and Appling as the third to do it. But it would be a pretty nice story, too, if he went out with his good friend Rivera rather than try to hang on another year in an attempt to prove something that isn't necessary.
The Nats will host the All-Star Game in 2018

The Orioles are looking to trade Machado heading into his walk year

The Cardinals have been linked for a while to the Baltimore star
Gallardo spent the first eight years of his career in Milwaukee

MLB revenues are at a record high right now, but teams aren't spending it on players

Chicago added Tyler Chatwood earlier this offseason but might not be done adding to the ro...