Jhonny Peralta on playing the Green Monster: 'I don't think it'll be tough'
Jhonny Peralta has just five games of left field experience in his career, and he'll have to contend with the Green Monster during the ALCS.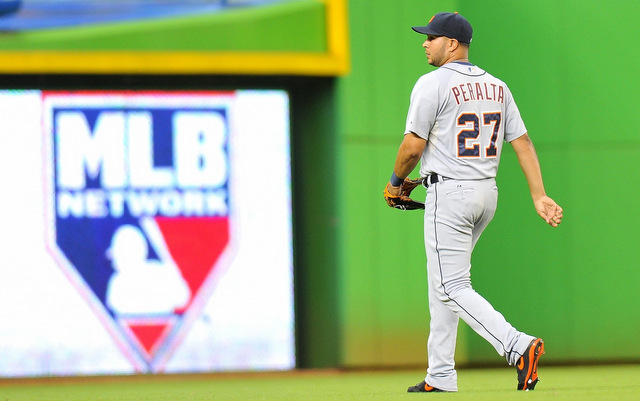 More ALCS: Tigers vs. Red Sox: Who has the edge?
BOSTON -- In addition to 50 games worth of playing time and salary, Jhonny Peralta's ties to the South Florida performance-enhancing drug hub Biogenesis cost him his position. The Tigers acquired Jose Iglesias from the Red Sox to fill in at shortstop during Peralta's absence and, with the exception of ALDS Game 5, he's remained there since.
Peralta returned from his suspension late in the season and manager Jim Leyland wanted his bat in the lineup, so a position change was made. The career shortstop (and third baseman) moved to left field. He underwent a crash course in extended spring training during the suspension and has since played five games and 34 2/3 innings at the position at the big league level.
Despite that inexperience, Peralta expects to play left field during Games 1 and 2 of the ALCS against the Red Sox this weekend. Normally that would be no big deal, but the series will open at Fenway Park. That means Peralta will have to deal with the Green Monster and all of the defensive headaches it creates, but he's not concerned.
"Tomorrow I'm going to play left field," said Peralta on Friday. "I don't think [it'll be hard]. I don't think it'll be tough . [Center fielder] Austin Jackson will be there too, so he'll be able to help. [We have to see] how the ball hits off the wall."
Not being concerned and not being prepared are two different things. Peralta is obviously confident he'll be able to play left field in front of the Green Monster -- at least until the late-inning defensive replacement takes over -- but he will spend some time getting acclimated to the bounces.
"Not yet," he added when asked if he'd ever worked on reading balls off the Monster. "It'll be different. That's why we're here, we're going to practice now. I'll go to left field and practice fly balls [during Friday's workout] -- read the ball and see how it's different ... I need to see how far I can go."
At this point of the year, the Tigers are doing everything they can to win. Their excellent regular season offense sputtered in the ALDS until Peralta clubbed a game-tying three-run homer in the fifth inning of Game 4, so they're doing all they can to keep him in the lineup. Even if it means sacrificing the outfield defense for a few games.
"I can play whatever position right now," said Peralta. "I'm doing what's best for my team. I'll play whatever position."
Granderson heads north of the border for his age-37 season

What did the Pirates get in return for their franchise player?

Rivero could remain in Pittsburgh for some time to come
The White Sox, Angels, Athletics, Orioles and Marlins are the holdouts after Blue Jays fol...

The Pirates have several attractive trade chips if they decide to go into a full rebuild

Gerrit Cole was traded over the weekend and now McCutchen is on the move