Jim Leyland asks: 'Who the (expletive) should I close with?'
After Jose Valverde blew another save Wednesday, Tigers manager Jim Leyland was asked about his closing situation. His answer was colorful, as usual.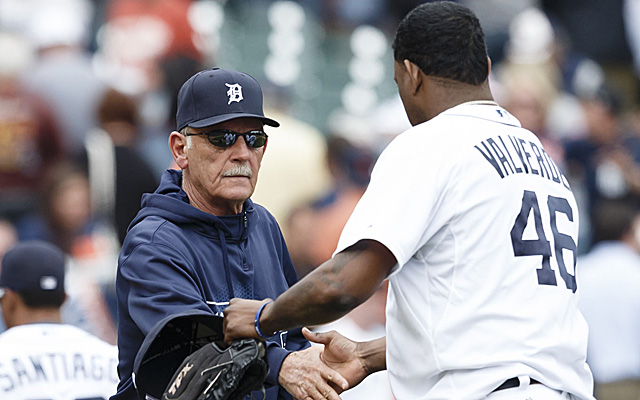 More MLB: Scoreboard | Standings | Probable Pitchers | Sortable Stats | Odds
Tigers closer Jose Valverde blew his third save of the season Wednesday, and since then, Tigers manager Jim Leyland has been answering questions about how he's going to deal with the back end of the bullpen moving forward.
And, as Leyland is apt to do, he gave a colorful answer.
"Some fans believe Valverde is a Leyland creation," Leyland says. "They think the manager loves him or he wouldn't be here. I don't understand who they think we should be closing with. I'm asking that question, 'Who the (expletive) should I be closing with?' I mean, do they want some rookie kid? I don't understand that.

"Who the (expletive) should I close with? Who do you want me to close with? Who the (expletive) do you want to be the closer? … I don't know what the (expletive) these people want. They just throw stuff out there. People just talk, they don't think about it.

"Sometimes it boggles my mind."
Outstanding.
The Tigers' bullpen issues have cost them an even bigger lead in the AL Central. The bullpen is 4-12 and has nine blown saves.
As to Leyland's rhetorical question, I'm not sure why Joaquin Benoit couldn't be the closer. He hasn't coughed up a single lead this year, has a 1.93 ERA, 1.04 WHIP and 33 strikeouts in 28 innings. But he only has 16 career saves so he's not a "proven closer," so I guess there's no reason to give him an extended look, eh?
Anyway, the good news is the Tigers have a 4 1/2 game lead and should win the AL Central if they play to their capability the rest of the way. Assuming they can keep a lead of more than a series for a while -- and I'm inclined to believe they will -- they'll have plenty of time to sort out the back end of the bullpen before it really matters (October).