Jim Leyland helping Brad Ausmus transition as Tigers manager
Though he's not employed as the Tigers manager anymore, Jim Leyland is giving new Tigers manager Brad Ausmus a helping hand in club meetings.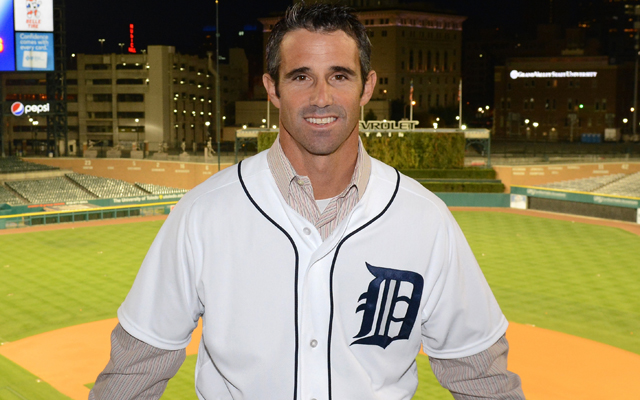 MORE: FA tracker: position players | FA tracker: pitchers | Winter Meetings updates
ORLANDO, Fla. -- Upon retirement, did venerable former manager Jim Leyland ride off into the proverbial sunset only to go fishing, golfing and the like?
Not exactly.
In fact, Leyland has been pretty hands-on in helping first-time manager Brad Ausmus transition into his new job with the Tigers.
"Jim has been fantastic with me, starting with the organizational meetings we had the day after I was announced as manager," Ausmus said. "I've talked to Jim a number of times, including in the last 48 to 72 hours."
Yes, Leyland is sitting in on meetings with Ausmus. And it wasn't just that one.
"Every time I have a meeting, Jim is basically sitting next to me or two seats over," Ausmus noted.
So is Leyland overstepping his bounds and possibly being a bit overbearing? I mean, he is the former manager after all.
No, he's not. Not according to Ausmus.
"He's been great in two ways; one, he'll give me any information I ask for or any information he thinks I might need. He also makes it clear, 'I'm not the manager, you are. You need to do this. Just because I'm telling you I did it this way or I like this doesn't mean you have to say that.' He's been fantastic."
What this says to me is the Tigers organization means a great deal to Leyland and he'll continue to follow along with their success, even if he's not in the dugout collecting a paycheck.
Gallardo spent the first eight years of his career in Milwaukee

MLB revenues are at a record high right now, but teams aren't spending it on players

Chicago added Tyler Chatwood earlier this offseason but might not be done adding to the ro...
The Dodgers and Braves pulled off a whopper on Saturday

Sabathia will reportedly spend a 10th season in the Bronx

Fowler suffered a knee injury at Chicago's Guaranteed Rate Field