Jimmy Rollins would be better off without the Phillies
The Phillies seem determined to run off one of the best players in franchise history. Jimmy Rollins should let them do just that.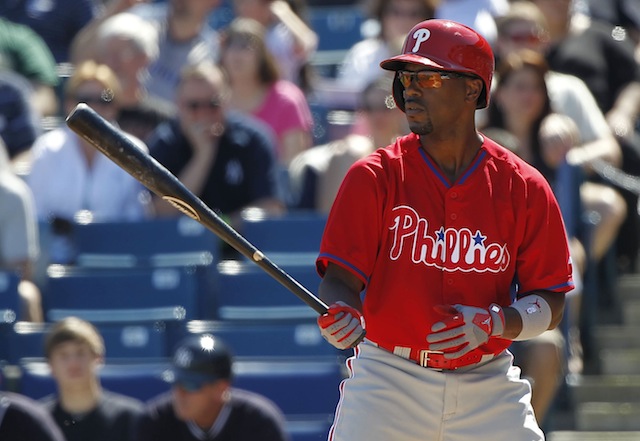 MORE: Spring Training | Scoreboard | Team previews
Early Tuesday morning, Buster Olney of ESPN.com tweeted out the following regarding the steadily degrading situation between Jimmy Rollins and the Phillies:
Sources: There is strong sentiment within PHI organization right now that the team would be better off trading shortstop Jimmy Rollins ASAP.

— Buster Olney (@Buster_ESPN) March 18, 2014
To recap, Rollins presumably did something to get on manager Ryne Sandberg's fightin' side, but Rollins doesn't seem to know what that "something" is. Now it's come to this, and this would be a whisper campaign against Rollins. 
Rollins occasionally draws ire for not running out routine grounders and pop-ups on occasion, and this, understandably, doesn't sit well with some. With that said, let's take the long view here: Rollins is the greatest shortstop in franchise history, a three-time All-Star, a four-time Gold Glove winner, a former NL MVP and a core member of some of the best Phillies teams ever. As for his taking plays off, we're talking about an up-the-middle performer who missed a total of 34 games from 2001 through 2007. Just last year, Rollins, in his age-34 season, played in 160 games. In other words, it's hard to argue that Rollins is somehow riddled with indolence. 
The larger reality is that every player takes a play off sometimes. Jimmy Rollins does, and Ryne Sandberg did. Pete Ubiquitous Rose did. Everyone. Sure, some take off more than others, but sometimes fans and observers can wield the confirmation bias when it comes to players who have a reputation for not hustling all the time. 
There's no getting around the fact that there's some mutual frustration here, and when Olney writes that some within the organization want Rollins gone, I'm sure he's right. After all, this is club these days mostly notable for incompetence and rank pettiness. Why not marginalize a stalwart like Rollins?
Rollins, as a 10-and-5 player, has the right to veto any trade. If there Phils were to find a trading partner, then said partner might have to extend Rollins's contract (he's eligible for free agency after this season, provided his 2015 option doesn't vest) in order for him to consent to the deal. On the other hand, here's what Rollins told Jim Salisbury of CSN Philly on the subject of waiving those rights:
"If we're in absolutely last place with nowhere to go and change is obviously on the horizon, then at that point I'd think about it. But anything short of a complete disaster, I'm wearing red and white pinstripes."
Whatever the case, Rollins, while obviously in decline, is still useful in the field and on the bases, and his bat is still playable by the standards of the position.
Were a contender to be interested, Rollins would do well to give serious consideration to accepting a trade, the personal upheavals of a late-career trade notwithstanding. After all, Philly, despite their winter additions, won't be contending this season. If the Phillies want to run Rollins off, then he should view it as a chance to escape a team of no consequence. 
More broadly, we too often let teams off the hook when they cast aside organizational lifers. We're quick to condemn players who exercise their rights, but when a team does it, our tribalism comes out. However, "disloyalty" -- to the extent that it's applicable in matters such as these -- flows both ways. In this instance, it's the Phillies who are guilty of it, not the player who twice signed long-term contract extensions with them and says he wants to stay. 
Gallardo spent the first eight years of his career in Milwaukee

MLB revenues are at a record high right now, but teams aren't spending it on players

Chicago added Tyler Chatwood earlier this offseason but might not be done adding to the ro...
The Dodgers and Braves pulled off a whopper on Saturday

Sabathia will reportedly spend a 10th season in the Bronx

Fowler suffered a knee injury at Chicago's Guaranteed Rate Field