Joba Chamberlain believes he can start and isn't afraid to tell anyone
Right-hander Joba Chamberlain believes he can still be a big league starter.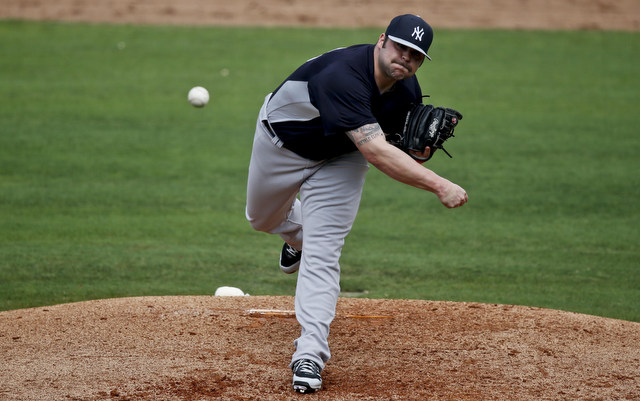 Right-hander Joba Chamberlain has had a very eventful career despite being a big leaguer for only parts of six seasons. He was a phenom setup man, a dominant starter, a middling starter, injured, a middle reliever, a world champion, injured again, a setup man ... you name it, and he's done it.
Chamberlain, 27, told reporters Tuesday afternoon he still believes he can help a team as a starter. Mark Feinsand of the New York Daily News provides the quote:
"This is probably going to spark a bunch of stuff and (Yankees PR director Jason) Zillo is going to be mad at me, but it's one of those things where it's like, do you think you have the capability to start? Yes. Do I have four pitches that I can throw for a strike? Yes. Do I have two plus pitches in the bullpen that I can throw at any time? Yes.

"I guess I'm trying to have my cake and eat it, too. I feel like I'm good enough to do both. I've proven that I can do both. Whatever it is, if I close, I want to be one or the other. I've been in the role of in the bullpen for a while, but am I confident that if I got the chance to start again somewhere – wherever that's at – I could do it? Without a doubt. I just have to focus on this year and what I can do to improve to help this team win, continue to try to win ballgames for them."
For what it's worth, GM Brian Cashman jokingly responded to questions about Chamberlain's comments by saying: "Well, we're down an outfield bat right now, too."
For his career, Joba owns a 3.18 ERA with a 3.67 K/BB ratio in 181 innings as a reliever. As a starter he pitched to a 4.18 ERA with a 2.04 K/BB ratio in 221 2/3 innings. That isn't entirely fair, though, because the Yankees famously held him to strict pitch counts when they stretched him out in 2008 and wound him down in 2009. In his 33 career starts (183 1/3 innings) with no pitch limits, Chamberlain managed a 3.88 ERA with a 2.21 K/BB ratio. No one will confuse that guy for an ace, but it seems like a 20-something-year-old kid who did that in the AL East would get a longer look in the rotation.
Joba will become a free agent for the first time following the 2013 season, and he surely knows starting pitchers earn quite a bit more than their bullpen counterparts. The largest contract given to a free agent reliever this past offseason was the two-year, $28 million deal given to 42-save man Rafael Soriano while mid-rotation guy Jeremy Guthrie got a similar amount of money ($25 million) across three years. Starting pays more and Chamberlain knows that. As far being able to start again, he's probably right. He won't get the chance though, at least not in New York.
For more baseball news, rumors and analysis, follow @EyeOnBaseball on Twitter, subscribe to the RSS feed and "like" us on Facebook. Also, individually interact with us on Twitter: @MattSnyder27, @daynperry and @mikeaxisa.

Iowa and Missouri are two programs mixing technology and analytics

Sunday's MLB roundup features the D-Backs clinching a postseason spot and the Mariners going...

The 2017 season has been, by far, the worst season of Cabrera's career
The Mariners were eliminated from postseason contention with Sunday's loss

Maxwell became the first MLB player to kneel during the national anthem Saturday

The Blue Jays are not expected to bring Bautista back next season