Jocketty: Yankees leaked Phillips trade rumor as tactic to retain Cano
Remember those Brandon Phillips to Yankees trade rumors? Reds GM Walt Jocketty says the Yankees leaked those in hopes of gaining extra leverage with Robinson Cano.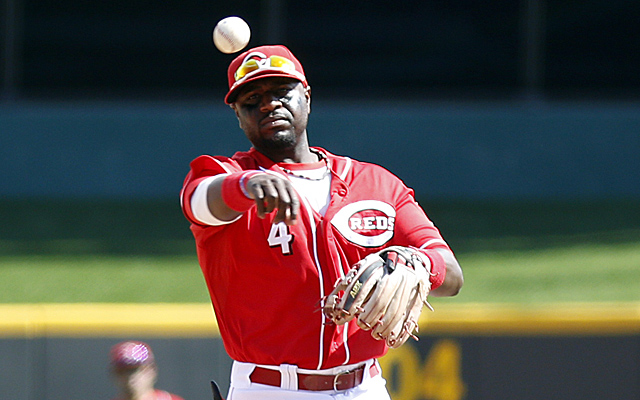 Reds All-Star second baseman Brandon Phillips was rumored to be on the trading block through much of the early offseason. One of those rumors connected Phillips with the Yankees -- likely as a Plan B to possibly losing Robinson Cano to free agency.
Well, at Redsfest on Saturday, general manager Walt Jocketty had something to say about those trade rumors.
Walt says Yankees leaked info that they called him about BP as a negotiating tactic with Cano #RedsFest

— ctrent (@ctrent) December 7, 2013
Interesting spin. It's worth noting that it was our CBSSports.com report that connected Phillips to the Yankees, but the report merely stated that the Yankees inquired about him. Nothing was ever suggested to be serious. Also keep in mind that Jocketty didn't deny there were introductory talks, he just said that word was "leaked."
One might recall earlier this week that Jocketty told reporters he had personally called Phillips and told him that he doesn't "have any talks going with any clubs right now" in terms of possibly trading Phillips. He has not, however, specifically ruled out trading Phillips.
So we have some semantics going on here, possibly now that Jocketty has been unable to unload Phillips and wants him to be happy as he remains a Red.
Phillips will turn 33 next season and has four years and $50 million left on his contract. He hit .261/.310/.396 with 18 homers and 103 RBI last season. He also won his fourth Gold Glove.
The lefty starter is coming off a terrible season

After acquiring Ian Kinsler and Zack Cozart in recent days, the Angels are trending upward

Cozart's coming off a big season as the Reds' shortstop
The veteran slugger spent the last eight seasons with Cleveland

The Padres may be poised for an active winter

Yes, Bryce Harper is going to make a lot of money next winter