Joe Maddon has perfect perspective on who Rays are
Joe Maddon perfectly understands the realities of the Rays within their "little world," specifically when it comes to possibly trading a pitcher the caliber of David Price.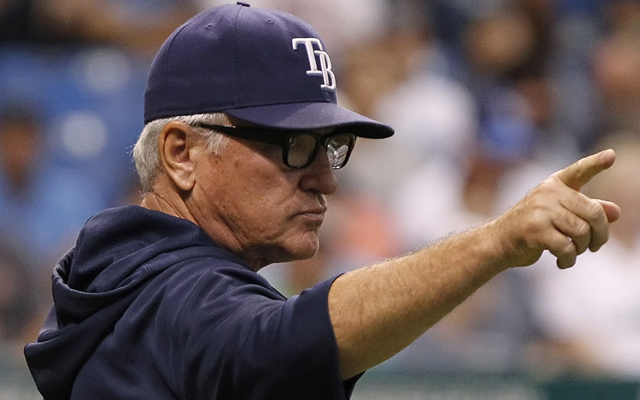 MORE: FA tracker: position players | FA tracker: pitchers | Winter Meetings updates
ORLANDO - With the Rays possibly set to deal David Price one offseason since they traded James Shields, manager Joe Maddon was asked multiple times about losing Price Monday during the Winter Meetings.
And Maddon has the absolute perfect perspective on the situation -- specifically, who the Rays are.
"We traded James Shields. Carl Crawford's gone. B.J. [Upton] left. It's just the way this thing works," Maddon said matter-of-factly. "Again, let's rewind that thought. Just think if you could have kept all those guys for several years and keep them together maybe 15 years like the Yankees did starting in 1995-96 to present time. And I do commit myself to that thought on occasion, but the reality is that's not the way it is. So I don't lament that. I'm really happy for guys that -- once they've done well here -- they go somewhere else and do well and make good money for themselves and their family. I'm all about that."
"I have all the confidence in the world that the program will work, that the philosophy will work, the structure will work. I believe in that."
As well he should. The Rays have made the playoffs four of the past six seasons, having won at least 90 games in five of those seasons, despite sporting one of the lowest payrolls in the league. As far as possibly losing David Price, Maddon maintains that specific line of thinking while acknowledging it would be a tough blow.
"When you lose a player of that magnitude, not just the fact that he's such a good pitcher, but this guy matters a lot to the clubhouse and to the team," Maddon said of Price. "Having said all those things, and again, this is how we have to operate within our little world. So if it were to happen, it's one of those that's almost the word devastating in a sense, but we have to recover from those kind of moments if it does actually occur."
Such is the reality for the very small-market Tampa Bay Rays.
Keep tabs on the top 50 free agents right here

Your one-stop shop for all things MLB Winter Meetings-related

The Angels knew about the first-degree sprain and still wanted to sign the potential ace, of...
The run on relievers continues with two more signings

The Yankees added Giancarlo Stanton in a blockbuster trade, though they now have openings at...

Smyly is currently on the mend from Tommy John surgery