Joe Maddon 'never discounted' Blue Jays, but I can't say the same
The Blue Jays had an 11-game winning streak snapped Monday. But they're about to get Jose Reyes back, and it's easy to believe in them now.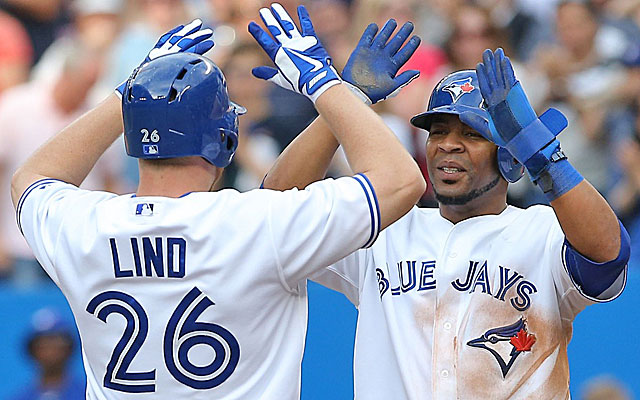 Joe Maddon says he never gave up on the Blue Jays.
I wish I could say the same.
Maddon is the manager of the Rays, so he never exactly picked the Blue Jays to win the AL East. He just said they were a dangerous contender, and he never went away from it.
"Check out the quotes," Maddon said. "I have not discounted them at all."
Don't check out my quotes, or my tweets, or my stories. Yes, I picked the Blue Jays when the season began, but I have discounted them plenty of times in the weeks since.
It was awfully hard not to, but Joe Maddon says he didn't.
Not when they were 11 games under .500 by the first week in May. Not when they were 10 games out of a playoff spot in the second week of June.
"If they pitch like they can ... " Maddon said.
Now they're pitching like they can (maybe even better than anyone thought they could. Now they're hitting like they can. Now they're about to get Jose Reyes back in the lineup, sometime this week.
They won 11 in a row, and they were actually percentage points ahead of Maddon's Rays in the AL East standings, before Tampa Bay's 4-1 win snapped the Jays' winning streak Monday night.
Still, if you say the Rays have a chance to win the East (and many do), then you basically have no choice but to say the Blue Jays have a chance, too.
The Jays are 5 1/2 games out of first, three games out of a playoff spot. Nearly halfway through the season, all five AL East teams have winning records, but no team has played well enough all-around to emerge as a clear favorite.
"It's going to be the roller coaster AL East all summer," Maddon said.
He includes the Blue Jays on that roller coaster -- and always has. I'm including them, too, and I'm saying again that they'll finish on top (weeks after trying to disown the pick).
Maddon says the Blue Jays will need to "pitch like they can," and it's hard to argue with that. But can't you say that about every team in the division -- or every team in baseball?
The Blue Jays had a 2.07 ERA during their 11-game win streak, and they have an MLB-best 2.44 ERA for the month of June. They have Josh Johnson back throwing hard and looking strong (although I'm not counting on him to uphold my long shot pick that he'll win the AL Cy Young). They're finally getting more good starts than bad ones from R.A. Dickey and Mark Buehrle.
As for Chien-Ming Wang and Esmil Rogers, currently the other two members of the starting rotation, it's been so far, so good. But maybe at some point the Blue Jays get J.A. Happ back -- and what a great story that would be, if he helps them back into the race.
No team is as good as it looks during a winning streak. But with Reyes coming back (the Jays suggest that could occur any day after Monday), and with Brett Lawrie coming back at some point (out since May 28 because of an ankle injury; he just resumed baseball activities), it's fair to think that the Blue Jays could get better offensively.
They're already averaging more runs a game than any AL team this month.
The lineup is finally working well, with Melky Cabrera, Jose Bautista, Edwin Encarnacion and Adam Lind at the top. Putting Reyes back in front of those four should only help.
Already, without Reyes, the Blue Jays tied a franchise record with their 11 straight wins. They had the first 11-game winning streak in the majors in almost two years, and they were only the ninth team in the past seven years to win as many as 11 in a row.
Seven of the other eight made it to the playoffs. Three ended up in the World Series.
I'm not saying the Blue Jays are going to the World Series (although for the first time in a couple of months, I'd be willing to argue that they might). I'm not even saying they're a sure bet to win the AL East, or even the best bet.
The AL East was the toughest division to pick when the season began. It's still the toughest.
The Blue Jays were hardly a crazy pick to win it then. They're hardly a crazy pick to win it now.
I just wish I could tell you I was saying that last month.
Boston wants to add two big bats to their lineup, not just one

Even more relievers signed on the final day of the Winter Meetings

Keep tabs on the top 50 free agents right here
The league is not happy Ohtani's medical information leaked

Kansas City and Baltimore were quite busy at the Rule 5 Draft

Piscotty's mother was diagnosed with ALS earlier this year