Joe Mauer discusses concussion issues, move to first
After being permanently moved to first base, Twins star Joe Mauer discussed the move in a one-on-one interview -- including how a simple cab ride once felt like a roller coaster due to his concussion symptoms.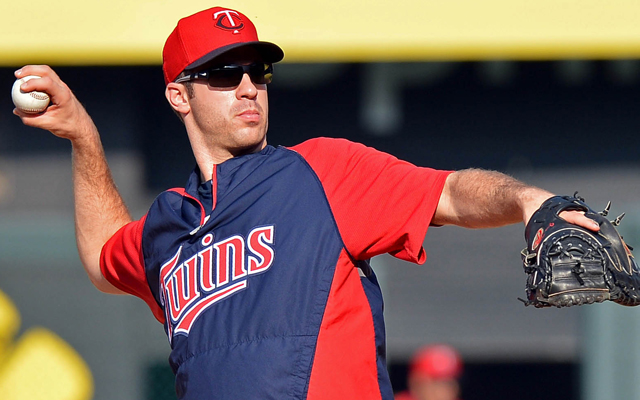 Earlier this week, the Twins announced catcher face of the franchise Joe Mauer has been permanently moved to first base due to lingering health issues and future concerns with those health issues that come from being a catcher.
Among those are his concussion issues, which caused an uncomfortable cab ride home once.
"I'll never forget that cab ride home from Comerica Park. They told me, 'You have a concussion. Go home. Get some rest.' Things like that and you know, cab rides probably don't have the greatest suspension, or anything like that, but it felt like I was in a rollercoaster. I mean, I think I shut my eyes the whole way home because the lights were just so intense and the noise. It was probably the worst half hour that I can remember."
Mauer, 30, hit .324/.404/.476 with 35 doubles and 11 homers last season in 113 games. Now that he's moved to first base, though, expect him to start playing a lot more games -- his career high is 147 -- and it's possible he's even more productive with the bat. Better health and a clear head have a tendency to help, after all.
Mauer has five years and $115 million left on his contract. The 2009 AL MVP has led the AL in batting average three times and on-base percentage twice. He's as good as anyone in the AL in those two categories on a regular basis.
Harrison has a thing for ending no-hit bids

Hill was close to perfect across regulation but it turned out to be all for nothing in the...

Plus Hank Aaron weighs in on Colin Kaepernick, Trevor Rosenthal hits the DL, and more
Davis should help fortify the Red Sox outfield

Whether or not Mike Matheny will adjust is to be seen

Hammerin' Hank wants to see Kaepernick get another shot in the NFL