Joe Mauer's grandfather: 'He's getting a big salary, he should produce'
Add Joe Mauer's grandfather to those piling on the Twins' franchise player for his lack of production.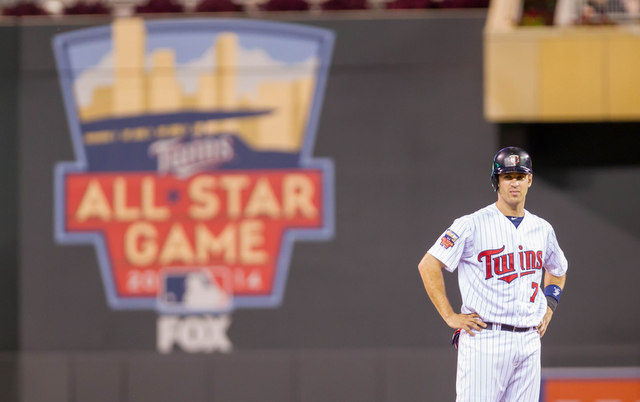 More MLB: Power Rankings | Expert Picks | Latest news & notes | Fantasy news
Things have not gone well for Twins franchise player Joe Mauer this season, his first as a full-time first baseman. He is currently on the disabled list with an oblique problem and is hitting an un-Mauer-like .271/.342/.353 (95 OPS+).
The Twins are pretty bad (41-49, last place in the AL Central) for the fourth year in a row and Mauer has heard more than his fair share of boos from the Target Field faithful. That's usually how it goes, the team stinks and the star player hears it the most.
Among those who understand the fans' frustration and the booing is Jake Mauer, Joe's grandfather. Here's what he told David Shama earlier this week (h/t Star Tribune):
"He's getting a big salary, he should produce," Jake said.  "That's what the fans think and that's what the fans want.  He's trying but it just don't happen (yet).  But I don't blame the people."

...

"He couldn't understand the (poor hitting) stretch that he went through," Jake said.  "He's never had it in his life.  He starts coming out of it and then he gets hurt.

"He says, 'What the heavens are going to happen next? Here I suffer for two months and then I start a string of going good and then I get hurt.  It's just terrible.' "
Mauer, 31, will earn $23 million this season and is owed another $92 million from 2015-18 as part of his catcher record eight-year, $184 million contract. The team moved him to first base this year in an effort to keep him healthy long-term. Catching is a rather brutal job.
Mauer hit .324/.404/.476 (142 OPS+) just last season and put up an astounding .328/.411/.474 (141 OPS+) batting line from 2008-13. He was -- and still is despite this year's hiccup, in my opinion -- on the Hall of Fame track and is line to go down as the greatest player in Twins franchise history.
But, when you're owed a ton of money and are having a poor statistical season, you're going to hear it from the fans, especially when the team is bad overall. Mauer knows it, his grandfather knows it, everyone knows it. It comes with the territory.
Granderson heads north of the border for his age-37 season

What did the Pirates get in return for their franchise player?

Rivero could remain in Pittsburgh for some time to come
The White Sox, Angels, Athletics, Orioles and Marlins are the holdouts after Blue Jays fol...

The Pirates have several attractive trade chips if they decide to go into a full rebuild

Gerrit Cole was traded over the weekend and now McCutchen is on the move