Joey Votto still has 'fairly significant discomfort' in injured quad
Reds first baseman Joey Votto still has "fairly significant discomfort" in his injured quad after resuming baseball activities.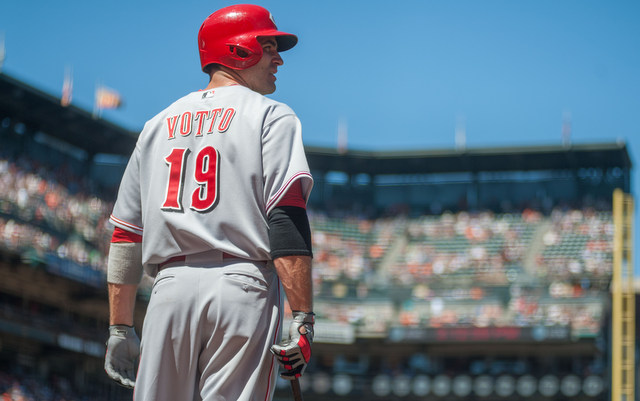 Reds first baseman Joey Votto resumed baseball activities earlier this week, specifically fielding ground balls, but his injured quad did not respond as well as the team hoped. Manager Bryan Price told C. Trent Rosecrans of the Cincinnati Enquirer that Votto is still experiencing "some fairly significant discomfort" in the quad.
Here's what Price said:
"He can get as much done there as here," Price said. "He took a few ground balls (Wednesday). It wasn't as good a result as we had hoped. There was still some fairly significant discomfort when he got lateral side-to-side so we had back off with that and stay with some strengthening and whatever the physical therapy protocols are. We hope when we get back there are some marked improvement. He took some light swings yesterday and he'll be able to gradually increase baseball workload based on how he feels."
The Reds only have 26 games left to play but the team has not indicated Votto's season may be over. Cinncinati comes in Friday's action 8.5 games back in the NL Central and 6.5 games back of the second wild-card spot with four teams ahead of them, so their postseason chances are remote at this point.
Price told Rosecrans the team is not concerned about the quad problem becoming a chronic issue. "From a practical standpoint, if we get him out there playing and he hurts it again that this would affect his career, we wouldn't consider playing him at all," he added.
Votto, 30, has hit .255/.390/.409 (127 OPS+) with six home runs in 62 games this year while spending two stints on the disabled list with quad injuries. He is owed $213 million through 2023.
L.A. manager Dave Roberts indicated that Puig's benching was related to more than one inci...

Manager Torey Lovullo said so on Monday
Let's see how SportsLine forecasts the race for MLB's 10 playoff spots

Monday kicks off the final week of MLB action. Let's take a look at everything that went d...

No other rookie in baseball history has hit more home runs than Judge has this year