Joey Votto update: 'Not ready to play yet'
The earliest Joey Votto will return is next Tuesday, which would be four weeks and one day since the Reds announced he'd be out three to four weeks. But even that sounds unlikely.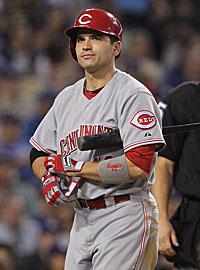 Reds could really use Votto now. (Getty Images)
On July 16, the Reds announced that superstar first baseman Joey Votto would miss three to four weeks after undergoing arthroscopic knee surgery to repair torn meniscus. Thursday night was three weeks and three days after that announcement, so where is Votto's progress?
"I'm not ready to play yet," Votto said (cincinnati.com). "I'm moving in the right direction."
Reds manager Dusty Baker told reporters that Votto wouldn't be back during the current road trip, which means the earliest possible return would be Tuesday at home against the Mets. But, as cincinnati.com notes, that seems unlikely.
"I'm definitely not sure on a timetable," Votto said (cincinnati.com). "I'm not doing that to be coy, it's because I genuinely don't know which day. I'm making progress."
So it sounds like the recovery is going slower than it was expected to go, even if not by much. Tuesday is four weeks and a day since the Reds said three to four weeks.
Votto, 28, was the NL MVP in 2010 and is one of baseball's elite players. He's hitting .342/.465/.604 with 14 home runs, 49 RBI, 52 runs and 36 doubles this season.
The Reds initially rallied together without their star, winning 15 of 16 from July 19 through August 4, but they're now mired in a five-game losing streak.
For more baseball news, rumors and analysis, follow @EyeOnBaseball on Twitter, subscribe to the RSS feed and "like" us on Facebook.
No, you're not imagining things. This MLB offseason has been very slow compared to the last...

Francesa will retire from radio next month, so he'll have plenty of free time next summer

Get your sports fans something that they'll wear all year
Get 15 percent off any order of more than $75 at CBS Sports Shop

The Twins need help in the rotation, and they may look to the trade market to find arms

Here are the bullet-points of what went down Tuesday regarding MLB and the Braves' punishm...