Johan Santana contemplating surgery, hopes to pitch again
Mets left-hander Johan Santana will take the weekend with his family to contemplate season-ending surgery, according to his agent.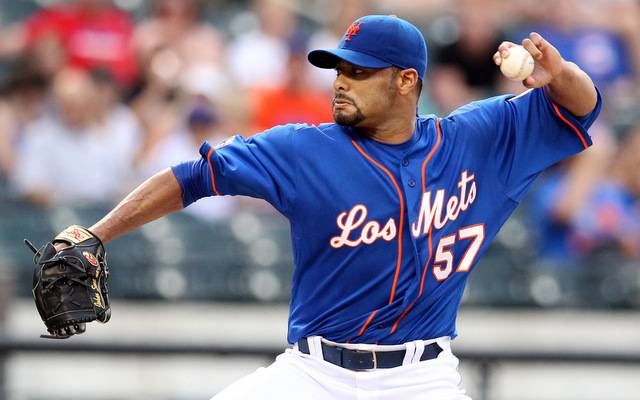 On Thursday, we learned that Mets left-hander Johan Santana has a "probable" re-tear of his shoulder capsule, a very serious injury that could potentially end his career. Chris Leible, the two-time Cy Young award winner's agent, said his client will take the weekend to discuss his options with his family before determining the next step:
With regard to @johansantana, he is taking time this weekend w/his family contemplating whether or not to have surgery. (Cont.)

— Chris Leible (@ChrisLeible) March 29, 2013
. @johansantana's plan is to be back on the mound pitching again as soon as possible.

— Chris Leible (@ChrisLeible) March 29, 2013
Dr. James Andrews told the southpaw the injury was "degenerative," according to Mike Puma of the New York Post, meaning it happened slowly over time rather than due to one specific event. There had been some speculation that an unplanned bullpen session earlier in camp -- when Santana and the team's front office were at odds -- led to the injury.
Santana, 34, first tore his capsule and had surgery in September 2010, causing him to miss the entire 2011 season. He went 6-9 with a 79 ERA+ in 21 starts last year before ankle and back trouble forced him to the DL in mid-August. Santana threw the franchise's first no-hitter on June 1.
Torn shoulder capsules are very serious stuff, so having a second surgery and attempting a comeback would take some major work and determination on Santana's part. Pretty much no pitcher has returned to his previous form following the first procedure, and the list of pitchers who have had the surgery twice is basically Mark Prior. That's all. It'll be an uphill climb, that's for sure.
It's part of Commissioner Rob Manfred's ongoing effort to improve pace of play

But one other team is prominently in the mix for the Marlins' slugger

Morgan went into the Hall in 1990 and has some strong words for PED users
Mark Appel was one of the players being moved about on Monday night

Garrett Cooper is the answer to a trivia question

We still don't know if Ohtani will be jumping to the majors yet