Johan Santana looks good, as Orioles work to keep him in the fold
As Johan Santana's opt-out date looms, Baltimore would like to convince him to delay his first start in a real minor-league game one more start.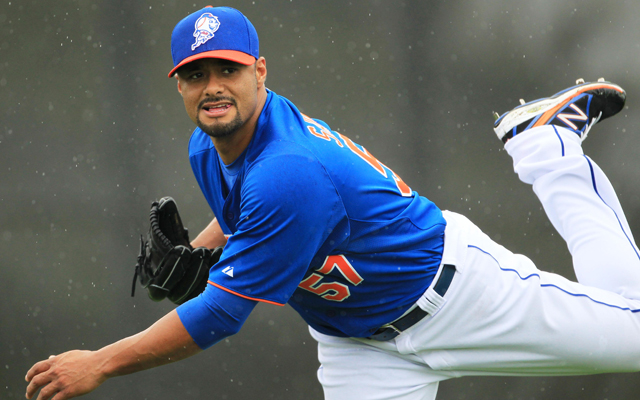 More MLB: Power Rankings | Expert Picks | Latest news & notes | Fantasy news
Two-time Cy Young Award winner Johan Santana has told people he believes he's ready to pitch in minor-league games, but the Orioles would like him to throw one more game in extended spring and are hopeful he'll agree to push back his contracted opt-out date from June 1 to do that.
The sides are in discussions and have three days to work out an arrangement amenable to both parties. He appears to have made progress working at the Orioles camp, but the team prefers to have him log one more virtual outing in Sarasota based on what they have seen so far.
Meantime, a scout who watched Santana a week or so ago returned with a positive review, suggesting that it would behoove the Orioles to work it out.
"He didn't throw badly at all," the National League scout said. "He sat at 88, which isn't a whole lot different from where he was with the Mets. The only issue was that he doesn't have the feel for his changeup yet."
The scout was especially impressed with the lefty's slider but conceded the changeup is key for Santana, who is attempting to return after a second major shoulder operation. "He's got to get the feel for the changeup back," the scout said. "That's his go-to money pitch."
Santana is said to much prefer to move on now from extended spring training, where he's throwing to teenagers (his last pseudo start consisted of 76 pitches) and has no fielders, to Double- or Triple-A to continue his road back. The Orioles have laid out a plan for Santana to pitch one more game in extended spring, then move him up to their upper minors for a couple of starts before hopefully joining the Orioles around June 18, as laid out in the Baltimore Sun.
While Santana may not be moving quite as fast as he likes, he's making progress with the Orioles, according to scouts who've seen him. One scout who has viewed him said, "I don't think he's ready to pitch in the big leagues yet ... but by next year, I think he has a chance to return to what he was."
The Rangers will certainly be back in the market for a reliever

Watson will give the Giants a good left-handed reliever

Marcus Stroman doesn't appear affected by the arbitration hearing after all
Manny Machado is entering his first year as a big-league shortstop, but his heart wants what...

Miami-Dade County wants a piece of the $1.2 billion sale price

They'll be hoping for a major rebound from Anibal Sanchez