John Buck says Johan Santana may have been tipping pitches in 2012
Mets catcher John Buck said new teammate Johan Santana may have been tipping his pitches last season.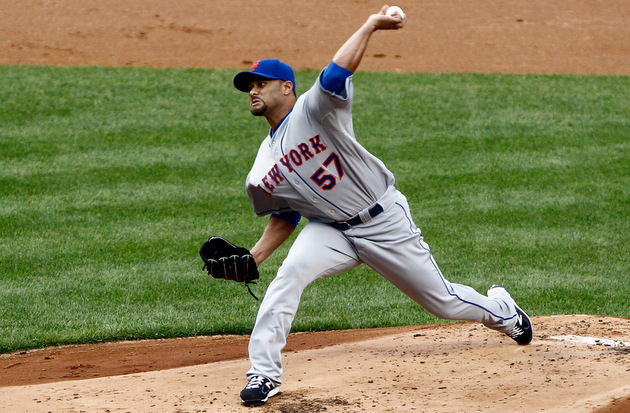 Santana went 6-9 in 2012. (US Presswire)
During an appearance on SNY's Mets Hot Stove show on Thursday night, new Mets catcher John Buck told Kevin Burkhardt that left-hander Johan Santana might have been tipping his pitches last season. Here's the quote, courtesy of Michael Baron at MetsBlog...
"Being on the other side -- whether it's Johan tipping his pitches or whatever -- those little tiny things will help. I was just on the other side hitting off of him. Maybe we can tighten some of those things up."
Buck, 32, played for the division-rival Marlins last season. He went 0-for-3 with a walk and two strikeouts in four plate appearances against Santana in 2012, and the Marlins as a team only scored four runs in 12 2/3 innings against the two-time AL Cy Young winner. If Santana was was tipping pitches, Miami didn't take advantage.
The 33-year-old Santana returned from major shoulder surgery last year, and his season can be split into two halves ...
|   | Starts | IP | H | R | BB | K | HR | ERA | WHIP | OPS |
| --- | --- | --- | --- | --- | --- | --- | --- | --- | --- | --- |
| Before No-Hitter | 10 | 59 | 49 | 20 | 16 | 60 | 4 | 2.75 | 1.10 | 0.621 |
| After No-Hitter | 10 | 49 | 68 | 45 | 18 | 43 | 13 | 8.27 | 1.76 | 0.964 |
The 134-pitch no-hitter on June 1 -- the highly celebrated first no-hitter in Mets history -- was the only time all season that Santana threw more than 107 pitches in a game. It was also a career-high and the first time that he threw more than 120 pitches in a start since June 2010. Taking away the no-hitter, he averaged 90.3 pitches per start last season.
Given his surgically repaired left shoulder, it sure looks like all those stressful pitches in the no-hitter impacted his performance down the stretch. Tipping pitches could be a separate problem, or they could be connected -- that's the hard part. A pitcher could tip his pitches in a million different ways, and it's not a guarantee that opposing hitters would even pick it up. Someone with an untrained eye like me would have little chance of catching something.
Buck told Burkhardt to "consider it cleared up," an indication that he and his new teammate have discussed the apparent pitch-tipping problem. Santana's season ended in mid-August due to an ankle sprain and lower-back inflammation, which are much greater long-term concerns. The Mets owe the southpaw $25 million in 2013, then have to pay him the $5.5 million buyout of his $25 million club option after the season.
Santana is currently working out with the intention of pitching for Team Venezuela in the World Baseball Classic. Because he finished the season hurt, the Classic must be willing to insure the remainder of his contract before he can participate.
For more baseball news, rumors and analysis, follow @EyeOnBaseball on Twitter, subscribe to the RSS feed and "like" us on Facebook. Also, individually interact with us on Twitter: @MattSnyder27, @daynperry and @mikeaxisa.

Maxwell joins a growing movement across sports

The Yankees punched their ticket to the playoffs with a win over the Blue Jays on Saturday

Sabathia's stance seems to be an increasingly popular one among athletes
Plus the A's and Brewers have hope, Giancarlo goes deep again, and much more

Matt Chapman and Matt Olson give the A's hope

Despite an awful month, the Dodgers are again NL West champions