John Danks will rejoin White Sox rotation on Friday
Left-hander John Danks will return to the White Sox rotation and make his first start following shoulder surgery on Friday.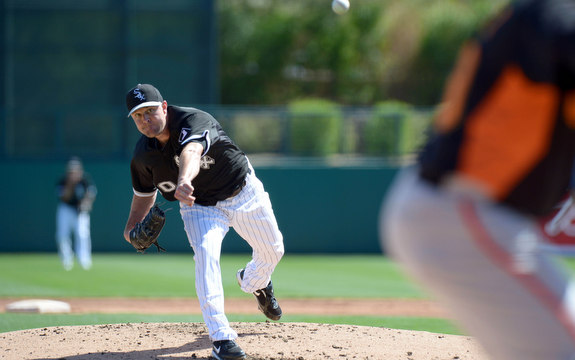 More MLB: Scoreboard | Standings | Probable Pitchers | Sortable Stats | Odds
Left-hander John Danks will make his first big league start following shoulder surgery on Friday, the White Sox announced. Fellow lefty Donnie Veal has been sent to Triple-A to clear a roster spot.
Danks, 28, made just nine starts last season before having surgery to repair a torn capsule and rotator cuff, as well as a biceps tendon debridement. Torn capsules are no joke, the vast major of pitchers who have the injury are never the same. Chien-Ming Wang, Mark Prior, Rich Harden, Chris Young, John Maine, Dallas Braden and Johan Santana are among its victims.
There was a small chance Danks was going to be ready in time for opening day, but he had a miserable spring training (27 hits and 21 runs in 11 innings) and needed to build arm strength. He pitched to a 3.18 ERA in 22 2/3 innings across four minor league rehab outings heading into Friday's start.
Danks was a rock solid workhorse starter for the White Sox from 2007-11, going 54-56 with a 4.03 ERA and three 190+ inning seasons. They originally acquired him from the Rangers as part of a package for Brandon McCarthy back during the 2006-07 offseason.
Veal, 28, came into Wednesday's game with a 9.45 ERA and 2.70 WHIP in 6 2/3 innings. The southpaw has thrown eight scoreless innings with ten strikeouts in Triple-A.