John Farrell finishes chemotherapy, is discharged from hospital
Reports out of Boston say he'll be back managing the Red Sox in 2016 if his health allows.
John Farrell made a point in August to say that the form of cancer he had was "highly curable," and that he would be managing the Red Sox again come spring training. While it's not right to say Farrell has been cured, he did make good news Thursday on the lymphoma front:
John Farrell was discharged from the hospital today after completing the third of three 21-day cycles of chemotherapy.

— Gordon Edes (@GordonEdes) October 1, 2015
As for Farrell and his old job, it would have been incomprehensibly cold-blooded for Boston management to make a permanent change in the dugout unless Farrell simply were too sick to keep working. And a report by Sean McAdam of CSN New England indicates the Red Sox plan on having Farrell return as manager as long as his health allows it.
In the last week of October, he will undergo a scan to determine if the cancer has been eradicated. If it has, and Farrell is given a clean bill of health from his doctors, sources say the Red Sox will announce that he will return to manage the club in 2016. Until then, the Sox are expected to have no official comment on their manager.

Farrell was given a two-year extension with a team option last February, putting him under contract through the end of 2017 at a minimum.
So, here's to humanity. Under different circumstances, with the Red Sox missing the playoffs (and possibly finishing with a sub-.500 record) for a second straight season, new team president Dave Dombrowski might have wanted to pick a new manager. And how interim skipper Torey Lovullo has done in Farrell's place certainly has given the entire league an enhanced perspective on Lovullo's possible future as a full-time manager.
The Red Sox came into play Thursday night with a 28-16 record since Lovullo took over on Aug. 14, when Farrell went on medical leave. They need to hustle and win their final four games in order to finish over .500, but even reaching 80 victories seemed unlikely with the Red Sox as many as 14 below .500 in mid-August.
It's certainly possible the Red Sox would have begun to play better with Farrell managing; he was the skipper two years ago when they won the World Series for the third time in 10 seasons. Regardless, he is in position to benefit from the improved play of individuals and the better cohesion the club has shown in recent weeks. It will be fascinating to see how many runs saved an outfield of Jackie Bradley, Mookie Betts and Rusney Castillo could accumulate, for example.
Lovullo is going to get his chance soon, especially with several openings around the league that (probably) are coming this offseason. And even if his time isn't Opening Day 2016, it will be soon thereafter.
More than anything, it's the right thing -- the humane thing -- that Farrell will return to the Red Sox if healthy. The humane thing doesn't always happen in big business, so we should cherish it when it does.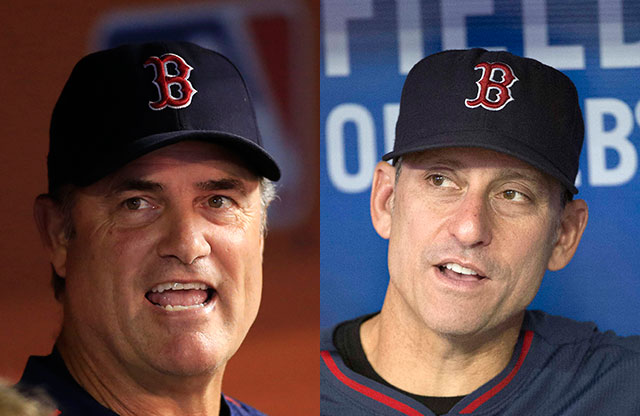 CBS Sports HQ Daily Newsletter
Get the best highlights and stories - yeah, just the good stuff handpicked by our team to start your day.
Please check the opt-in box to acknowledge that you would like to subscribe.
Thanks for signing up!
Keep an eye on your inbox for the latest sports news.
Sorry!
There was an error processing your subscription.
The All-Star catcher is in his age-31 season

What does the 2019 season look like for the Nationals?

Darvish's season ends after eight starts with a 4.95 ERA
The Cubs have tons of players capable of playing in the infield, so let's work through thi...

The fact the Cubs were awarded the waiver claim tells us every other NL team declined to place...

Welcome back to the spotlight, A-Rod