John Farrell makes all the right moves in Red Sox Game 4 win
Red Sox manager John Farrell generally doesn't get as much credit as his counterpart in the ALDS, but in Game 4, he pulled all the right strings.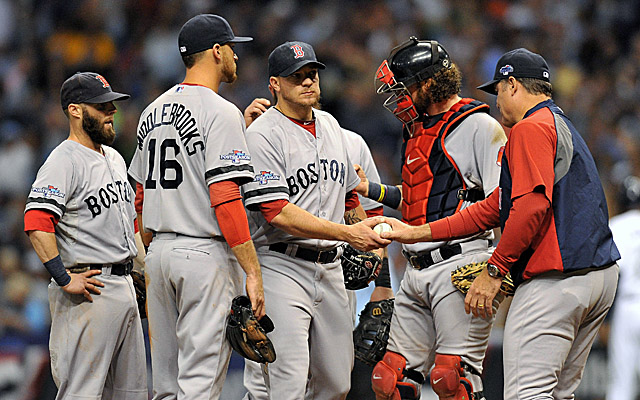 Red Sox advance: Quick hits | R.I.P. Rays 2013 season
Heading into the American League Division Series between the Red Sox and Rays, the manager who got all the credit was popular Rays skipper Joe Maddon. He's widely held in high esteem -- and rightfully so, given the way the Rays compete year-in, year-old with such a low payroll and despite routinely shipping away some very good players.
But in Game 4 on Tuesday night, less heralded Red Sox manager John Farrell pulled all the right strings and deserves credit.
While Maddon was busy cycling through nine pitchers -- and having to get his would-be Game 5 starting pitcher David Price up in the bullpen -- and using 22 of his 25 players on the roster in a nine-inning game, Farrell quietly did everything right.
After cruising through five innings, starting pitcher Jake Peavy ran into a bit of trouble in the sixth. In what was now a 1-0 game, Farrell wasted no time and went to Craig Breslow. Breslow would proceed to strike out the next four batters.
In the bottom of the seventh, Farrell elected to pinch hit for Stephen Drew with rookie Xander Bogaerts. Bogaerts would walk, advance to third on a Jacoby Ellsbury single and then score on a wild pitch to tie the game.
When Breslow tired in the eighth, Farrell went to Junichi Tazawa for one hitter: Strikeout.
Then it was time for Koji Uehara, only one day after allowing a game-losing home run, for a four-out save. Uehara retired all four batters he faced, striking out two.
Yes, much of the attention when it comes to managers from Tuesday's game will focus on Joe Maddon and all the moves he made. But just as the final score shows, Farrell came out on top with his decision-making Tuesday. He did everything to help his team succeed. And now it's off to the ALCS in Farrell's first season -- one season after the club finished dead last in the AL East.
Minnesota has designs on the best starting pitcher available on the free agent market

The Cardinals have long coveted the Miami outfielder

The superstar slugger is eligible for free agency after next season
The veteran second baseman remains a useful regular

The Indians may be seeking a left-handed hitter in return

NBC Sports California has cut ties with the former A's slugger after a string of inappropriate...