John Farrell's attempt at playing National League manager falls flat
Red Sox manager John Farrell made several errors in the Red Sox Game 3 loss, some of them relating to his inexperience in NL managing.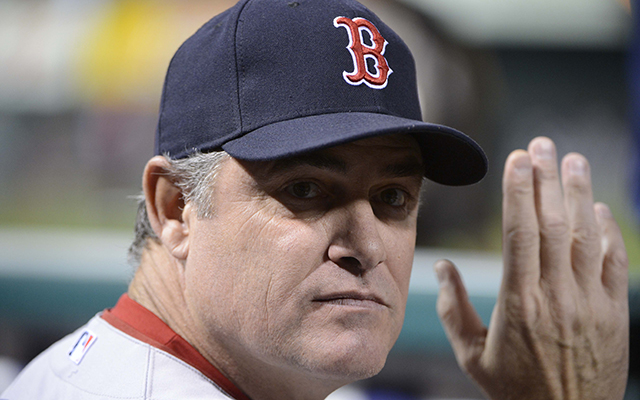 Game 3: Ends on obstruction call | Quick hits | Grades | Craig re-injures foot
ST. LOUIS - American League manager John Farrell was tested on his National League managerial skills Saturday night in Game 3 of the World Series.
He failed.
Now his Red Sox trail two games to one in the best-of-seven series, after losing 5-4 on a controversial -- but what appeared to be correct -- obstruction call.
The first mistake in my opinion flew under the radar for most, but earlier Saturday I noted that defensive miscues loom large in the postseason. And in an attempt to add offense, Farrell removed shortstop Stephen Drew in favor of Will Middlebrooks, shifting Xander Bogaerts to shortstop.
Now, Bogaerts is a shortstop by trade and isn't bad, but Drew is an excellent defender. And on the first batter with Bogaerts on defense, a Matt Carpenter excuse-me grounder found its way to Bogaerts and he made an errant throw. The play would've been close and David Ortiz couldn't make the scoop on the throw, but the gut feeling here is Drew makes that play.
And, really, how much offense does Middlebrooks add? He was hitting .179/.269/.261 heading into Game 3 this postseason. So Farrell made the defense worse in order to get that bat into the order? Tough call.
Also, the Carpenter "single" opened the door to the Cardinals' two-run seventh.
Let's fast-forward to the top of the ninth inning when Farrell actually let an American League relief pitcher bat in a tie game against a dominant reliever in Cardinals closer Trevor Rosenthal. Mike Napoli, meanwhile, was on the bench. Napoli is a power hitter who has been clutch in the postseason and an extra-base hit with one out wasn't out of the question. We can't say it was likely, but there was at least a decent chance. Workman had no chance. I actually remember squinting from the right-field auxillary press seating because I couldn't see the huge beard on the dude walking to the plate. Like, wait a minute, how is that not Napoli? It was as much a no-brainer as the Cardinals using Allen Craig in the spot they used him.
So Farrell must have been planning for using Workman for several innings to save his bullpen in anticipation of extra innings, right? Also, he was clinging to the mantra that you don't use your closer in a tie game on the road -- which I totally disagree with, but that's a different discussion for a different day -- right?
According to Farrell, yes, the former was the thought process.
"I felt like if we got into an extended situation, which that game was looking like it was going -- [we] held [Napoli] back in the event that spot came up again," Farrell said after the game.
Well, with one out in the bottom of the ninth, Yadier Molina singled off Workman and Farrell went to his closer, Koji Uehara, to face pinch hitter Allen Craig. So it's like he didn't totally plan ahead and instead changed his mind on the fly. And he did admit that he wishes he would have done something differently.
"In hindsight having Workman hit against Rosenthal is a mismatch," he said. "I recognize it, but we needed more than one inning out of Workman."
So 1 1/3 innings out of Workman instead of one? Just one baserunner changes everything and now it's OK to bring in Uehara?
Here's Farrell on the matter:
"I felt like we had four-to-five outs with Koji," Farrell said. "If the thought was to go for a two-inning outing for Koji, we would have pinch-hit for Workman the inning before. We were trying to get two innings out of Workman. Once his pitch count was getting into the 30s with the go-ahead run on base, that was the time to bring Koji in, even though this would have been five outs. We fully expected him to go back out for the 10th."
That's tough and he did change his mind on the fly. But, honestly, did he not consider the possibility that a hitter like Yadier Molina might single before deciding to not pinch hit for Workman? Not only that, but the difference between five and six outs could be just one or two pitches. It probably wouldn't have been an awful decision if in an AL park to stick with Workman, but in the NL park, you can't bat your reliever when one swing from Napoli's bat could put you ahead.
Farrell also said he wished he would have double-switched backup catcher David Ross into the game when he went to Workman in the eighth. But that's a National League maneuver and he just, admittedly, messed up there.
We know the rest. Farrell's mismanagement will clearly be overshadowed in the mainstream discussions of the game. There are much bigger storylines, such as the obstruction call, obviously.
Still, we can't ignore Farrell's mishaps here. And I've sung his praises before. This game was just not his finest hour.
As I said, Farrell was tested in terms of how to handle a game with National League rules and he failed. He has two more games to do a better job for his team before either the season ends or it shifts back to AL rules.