John Henry wraps up Meddler of the Year award with his holiday trip to Seattle
The Red Sox owner shouldn't have let players air their grievances in July in the meeting where manager Bobby Valentine was excluded, and he only looks like he's trying to make up for it now with a concerned pose.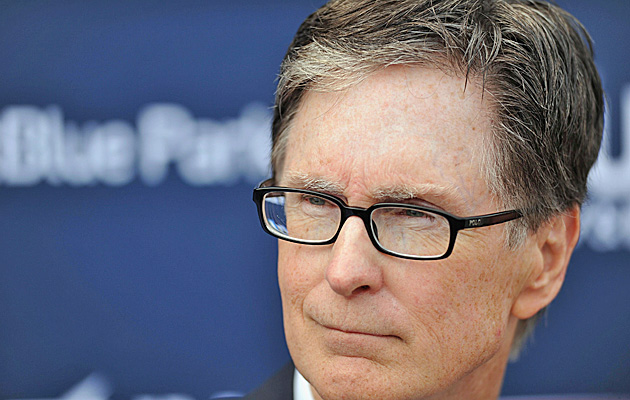 Henry says he went to Seattle on a fact-finding mission. (US Presswire)
Red Sox owner John Henry labeled his cross-country holiday trip to view his beleaguered baseball team and talk to pertinent parties in Seattle as a "fact-finding mission.''
We could have saved him some time. Here are some facts.
His Red Sox are horrendous, their pitching is terrible, their mix is bad and their health worse.
But then, we hope (and assume) Henry already knew that, provided he's paying a modicum of attention.
Henry didn't go to fire embattled manager Bobby Valentine, he said. Not today, anyway.
No, an in-season firing only would have served to make Henry look like a liar after the big three (including also club chairman Tom Werner and president Larry Lucchino) went out of their way to say Valentine was safe through this season. Which, in effect, only made it seem certain he was a goner right after it.
But so then, what could Henry possibly accomplish for his freefalling team with his 2,500-mile excursion, beyond locking up the award for Meddlesome Owner of Year? (And yes, there was at least one other top contender for this trophy, though Henry is the clear winner here.)
Seeing how it's hard to miss the obvious issues with the Red Sox, perhaps Henry was merely looking for a make-good. Predictably, the Red Sox owner didn't receive very favorable press coverage for giving the audience to the players to air their gripes about Valentine (and maybe the coaches) at that clandestine players-and-owners-only get together in New York in July. So maybe he's purposely striking a more concerned and public pose this time.
From here, it just looks like more meddling even if comes wrapped in concerned tones. Any way you see it, Henry spent Labor Day in the middle of the mess, thousands of miles from his home.
If it's really the case that he went in search of facts, give him this: even after a serious streak of big decisions gone awry, he still may retain faith in his own ability to figure it all out.
Valentine, it has become fairly apparent by now, will not make it to next year. He never really had the full support of the big bosses, who in the key early firestorm took the side of Kevin Youkilis and Dustin Pedroia after Valentine dared criticize Youkilis, all season they didn't once question coaches who openly disdained Valentine and then, the topper, they listened as players unloaded on the manager in New York while the manager was somewhere else.
Valentine's eventual ouster appears nothing short of inevitable now. And maybe he's the lucky one.
With a clubhouse filled with difficult personalities, some who had preconceived thoughts about Valentine and/or warm feelings about his predecessor, the support absolutely needed to be early and obvious. If this is it, it's way too late.
As to why this team, not great to begin with, has hit the skids (it's 9-22 in its last 31 games, is 0-6 on the West Coast trip, and as Gordon Edes pointed out, has a 9.80 ERA on the trip), here are some more facts:
The team was over-rated, has been decimated by injuries and still has too many negative personalities and a bad mix – even after the difficult Josh Beckett was traded away. But then, you'd think Henry knew all that already.
Maybe Henry just went to strike his best concerned pose. If that's the case, he would have been better off spending Labor Day on his yacht.
Where might the Orioles third baseman land?

Kinsler will slot in at second base for the Angels

The Marlins got a better return for Ozuna than Stanton or Gordon
The two teams are going about things in very different ways

The Marlins are indeed in teardown mode under new ownership

The Marlins still have more attractive pieces