John Smoltz says Stephen Strasburg should fake injuries
Former Braves right-hander John Smoltz suggests Stephen Strasburg feign injury to make sure he can pitch in the pennant race.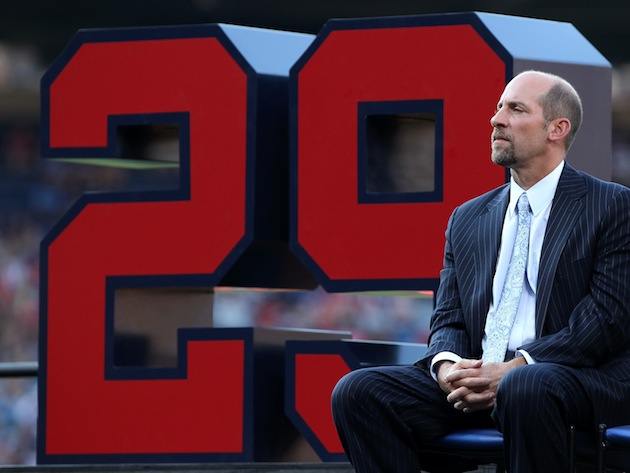 John Smoltz suggests Stephen Strsaburg should feign injury to avoid his innings limit during a playoff run. (Getty Images)
We all know Stephen Strasburg isn't a fan of the innings limit the Nationals want to place on him, but TBS announcer and future Hall of Fame pitcher John Smoltz says Strasburg should fake an injury to make sure he can pitching in a pennant race.

On ESPN Radio, Smoltz had this to say (via the DC Sports Bog):
"Honestly, I know this is gonna sound … well, I'm a little bit different anyways," Smoltz began. "I'd create my own little gap. I'd have a blister one day, maybe a hangnail the next start. You know, I think there's ways to do it. And I get it -- their statement is every game counts. Well, it does, but it doesn't count as much as September.

"You're in your own division, you can either lengthen your gap or close the gap. And I just think that's gonna be hard to explain to 23, 24 other players, why this guy is going to [not pitch]."
Smoltz did say he understands the Nationals' reluctance to have Strasburg throw too many innings after Tommy John surgery, but had an alternate idea of what the Nationals could have done.
"I don't know that they thought they'd be in this position, if you knew you were gonna be in this position, you start him in May and let him pitch the rest of the year. But by starting him in the regular season right at the start, you've boxed yourself in now that you're in a [playoff] position, to try to explain why at the last part of the season you won't have your best pitcher pitching, or one of your best. …

"And I think that's gonna be the tough task. I argue just space it out, even from this point on. That's gonna be difficult because they've got a mandate, that's from the top. They're gonna stick to it. They make the decisions. It's gonna maker her interesting conversation down the stretch."
For more baseball news, rumors and analysis, follow @EyeOnBaseball on Twitter, subscribe to the RSS feed and "like" us on Facebook.
Get 15 percent off any order of more than $75 at CBS Sports Shop

Get your sports fans something that they'll wear all year

No, you're not imagining things. This MLB offseason has been very slow compared to the last...
Francesa will retire from radio next month, so he'll have plenty of free time next summer

The Twins need help in the rotation, and they may look to the trade market to find arms

Here are the bullet-points of what went down Tuesday regarding MLB and the Braves' punishm...