Jon Lester, Adam Wainwright named starters for World Series Game 1
The Red Sox and Cardinals made it official on Monday: Jon Lester and Adam Wainwright will get the ball in Game 1 of the World Series this week.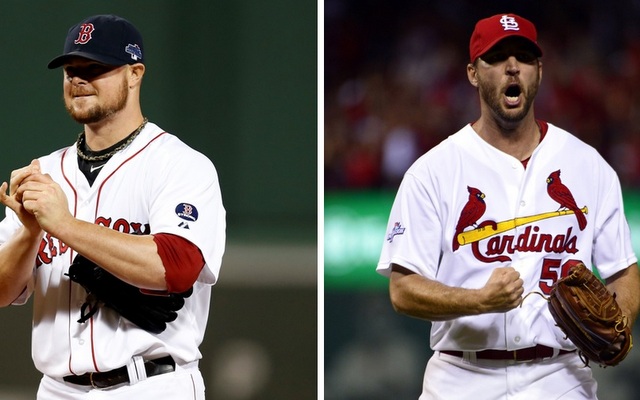 More Fall Classic: Who has the edge? | Yadier Molina is the X-factor
As expected, right-hander Adam Wainwright and left-hander Jon Lester have been named the starting pitchers for Game 1 of the World Series. Those two were expected to get the ball, but Cardinals manager Mike Matheny and Red Sox manager John Farrell made it official on Monday.
Wainwright, 32, went 19-9 with a 2.94 ERA during the regular season. He is 2-1 with a 1.57 ERA in three postseason starts. Believe it or not, Wainwright has never pitched in Fenway Park before nor has he ever started a World Series game. He was in the bullpen for the team's 2006 championship and injured during their 2011 run.
Lester, 29, went 15-8 with a 3.75 ERA during the regular season and 2-1 with a 2.33 ERA in three postseason starts. He was the winning pitcher in the 2007 World Series clincher, throwing 5 2/3 scoreless innings against the Rockies in Game 4.
While the Game 1 starters were obvious, the Games 2 starters are not. The Cardinals could go with rookie right-hander Michael Wacha, who's been electric these last six weeks. Joe Kelly and Lance Lynn are Matheny's other options. Farrell could go with Clay Buchholz, John Lackey and Jake Peavy in Game 2 and no one would be surpried.
The 2013 World Series begins Wednesday night.
L.A. manager Dave Roberts indicated that Puig's benching was related to more than one inci...

Manager Torey Lovullo said so on Monday

Let's see how SportsLine forecasts the race for MLB's 10 playoff spots
Monday kicks off the final week of MLB action. Let's take a look at everything that went d...

No other rookie in baseball history has hit more home runs than Judge has this year

Jays have said goodbye to Encarnacion and will to Bautista. Should they move on from Donaldson,...