Jon Lester-Chris Sale duel highlights outstanding battle in Chicago
Jon Lester and Chris Sale both took no-hitters into the sixth inning during Thursday's White Sox-Red Sox game.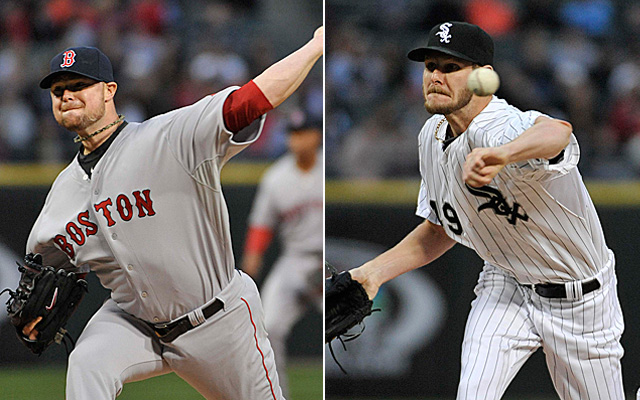 More MLB: Power Rankings | Expert Picks | Latest news & notes | Fantasy news
The Boston Red Sox just beat the Chicago White Sox , 3-1, in US Cellular Field Thursday night. In and of itself, the score never tells the whole tale of the game and in this particular case it falls drastically short. It was a gem, thanks mostly to a pair of left-handed pitchers. They weren't alone, though.
It didn't take long for something exciting to happen, as David Ortiz appeared to hit a two-run homer in the first inning. Adam Eaton had other ideas, though.
That wasn't the only huge defensive play for the White Sox, either, as Paul Konerko (remember, Derek Jeter isn't the only one in his final season) made a great play for a double play in the eighth inning. With Jackie Bradley on first base in a tie game, Dustin Pedroia sent a rocket toward first base. If that got through Konerko, it's at least runners at first and third with no out. Maybe it's second and third with no out or maybe Bradley even scores. Regardless, we won't know because Konerko made the play (watch it on MLB.com video).
Any great game has to have a home run, right? This one did. Red Sox rookie phenom Xander Bogaerts hit his second career homer and it was kind of a big one. It actually broke up Chris Sale 's no-hitter in the top of the sixth.
Oh yeah, about that ...
The main course here was the pitching matchup. It was dueling left-handers who were both on top of their respective games.
Sale was brilliant, carving up the Red Sox for 10 strikeouts in seven innings. The only hit he allowed was that Bogaerts homer. An argument could be made that Jon Lester was better, though.
While Sale walked three and hit a batter, Lester actually took a perfect game into the sixth. An infield single would end it with one out in the sixth, but Lester still was able to pick up the win after eight strong innings of work. He struck out nine and didn't walk anyone, meaning he has a 29:4 K:BB ratio thus far in 2014.
Let's take a step back and admire the work done by the two starters to begin this game. Neither team had a hit through five innings. This is the defending champion Red Sox, who boast a pretty powerful offense, against the team that entered Thursday leading the majors in runs scored.
All Sale and Lester did was go out and make this into an old-fashioned pitcher's duel. They overpowered guys, they changed speeds, they buckled knees and induced weak contact when needed. They each flat-out dominated. Hey, remember all those complaints about baseball games taking too long? You weren't gonna see it in this beauty.
A pitcher's duel alone isn't enough to make a great game, of course. In addition to the aforementioned defense, there was Alexei Ramirez extending his hitting streak to 16 games -- a White Sox record to begin a season. How about a little late drama? Oh, yes, there was that, too. Let's see ...
•Lester had to get Dayan Viciedo swinging to strand runners at first and third to end the eighth in a 1-1 tie. 
• David Ross came through with a one-out double to score the go-ahead run in the ninth for Boston.
•Bradley hit a rocket of a liner with the bases loaded that could have broken the game open in the ninth; instead it was a lineout that resulted in a double play.
•Ramirez's single came in the ninth off the untouchable Koji Uehara and set up a battle between Uehara and Cuban rookie sensation Jose Abreu , who represented the tying run. One crack of the bat and it's tied up all over again -- and let's keep in mind this was Uehara's first outing since April 9, as he's been dealing with shoulder soreness. . Uehara would induce a weak groundout, but the drama was still there.
It was a hard-fought, well-played baseball game. The game as a whole, though, paled in comparison to the work done on the hill by a pair of elite lefties.