Jon Lester confident extension with Red Sox is coming soon
Jon Lester is entering the final year of his contract with the defending champion Red Sox, but it still doesn't sound like he'll end up hitting free agency.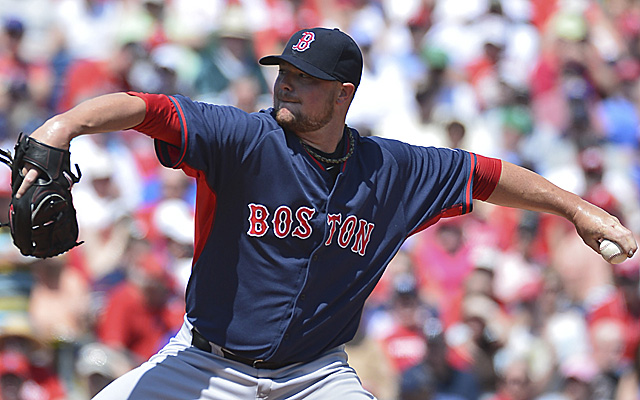 MORE: Spring Training | Scoreboard | Team previews
Red Sox ace Jon Lester is set to hit free agency after this coming season, though it's pretty clear -- barring something unforeseen -- it won't come to that.
Lester and the Red Sox have been said for weeks to prefer an opening day deadline for an agreement on an extension to be in place, but there's been enough progress that Lester himself doesn't even think that needs to remain a hard deadline.
"Like I said last week, I think if we're close, both sides have agreed we're not just going to end something just to end something because it's Opening Day," said Lester (MLB.com). "If we're close, yeah, we'll carry it over. I don't think that's a distraction. But I feel like if things are nowhere near being done, yeah, that's a good thing for both sides. You can come out and say what needs to be said about it and put it on the back burner and worry about playing baseball then."
Lester also expressed optimism that an extension would be done in the near future, just as general manager Ben Cherington has done recently.
Basically, Lester is going to be extended by the Red Sox and it's only a matter of time.
Lester, 30, was 15-8 with a 3.75 ERA, 1.29 WHIP and 177 strikeouts in 213 1/3 innings for the World Series champion Red Sox last season. He was 4-1 with a 1.56 ERA in the postseason and he's now carried that success over into the spring, as he has a 0.71 ERA in 12 2/3 innings.
If Lester is removed from the free agent pitching market, the top four starters stand to be Max Scherzer, James Shields, Ervin Santana and Justin Masterson.
Sunday's MLB roundup features the D-Backs clinching a postseason spot and the Mariners going...

The 2017 season has been, by far, the worst season of Cabrera's career

The Mariners were eliminated from postseason contention with Sunday's loss
Maxwell became the first MLB player to kneel during the national anthem Saturday

The Blue Jays are not expected to bring Bautista back next season

The Dodgers have already clinched the NL West title, so the D-Backs will be a wild card te...