Jon Lester on upcoming free agency: 'I'm not going to the highest bidder'
Free agent-to-be Jon Lester said he will go where he and his family are happy, not where they can get the most money.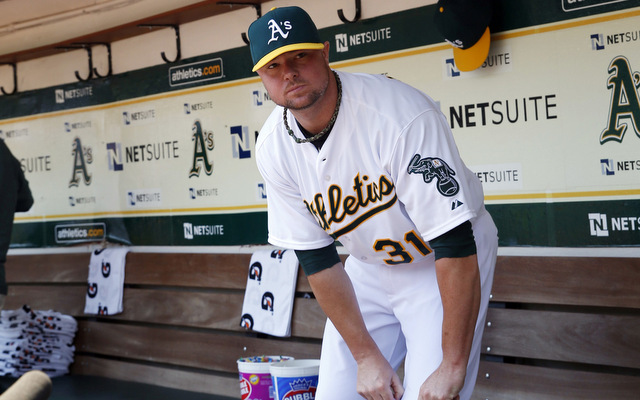 More MLB: Power Rankings | Expert Picks | Latest news & notes | Fantasy news
The Red Sox traded ace left-hander Jon Lester to the Athletics at the trade deadline, mostly because they were unable to sign the impending free agent to a contract extension. The team continues to insist they will pursue him over the winter.
Of course, they are hardly the only team that will look to sign Lester. Ace lefties who have proven they can handle big markets and dominate in the postseason are rare, especially when all they cost is money. It's easy to envision clubs like the Yankees, Mariners, Dodgers, Angels, Tigers, Nationals, Rangers and Cubs getting involved.
Lester, however, insists he will not make his free agent decision based on money. Here's what he told John Tomase of the Boston Herald:
"(The Red Sox) told me, 'We're going to be aggressive. You're going to get blown out of the water by some of these (other) offers,' " Lester recalled. "I'm like, 'I don't need to be blown out of the water.' Why would I need to be blown out of the water? That doesn't make or break your decision, at least for me. I'm not going to the highest bidder. I'm going to the place that makes me and my family happy. If that's Boston, it's Boston."

....

"In the greater scheme of things, we're talking about just a stupid amount of money," he said. "For me, I want to be comfortable. The way I look at it is, if someone gives you $170 million and someone gives you $150 million, is that $20 million really going to change your lifestyle? Same thing if the highest bidder is $100 million and the team you're going to feel most comfortable with offers $80 million. Is that $20 million really going to make the difference in your lifestyle?"
Boston reportedly offered Lester a four-year contract worth $70 million earlier this year, though that isn't close to a fair offer. It's probably half what he could get on the open market. Lester is in line for something like to the six-year, $144 million deal Cole Hamels signed with the Phillies. He could even push for the seven years and $161 million the Yankees gave CC Sabathia back during the 2008-09 offseason.
Lester, 30, is 13-7 with a 2.51 ERA in 24 starts and 164 2/3 innings for the Red Sox and Athletics this year. He is on pace to throw 190+ innings for the seventh straight year and 200+ innings for the sixth time in the last seven years. Lester is 6-4 with a 2.11 ERA in 76 2/3 career postseason innings.
Tigers ace Max Scherzer will also be a free agent this coming winter, though, unlike Lester, he will be attached to draft pick compensation. Giving up a first round pick for an elite pitcher isn't a big deal, but, all things being equal, teams will gravitate towards the guy who doesn't cost a draft pick.