Jonathan Papelbon doesn't have an issue with possibly being traded
Phillies closer Jonathan Papelbon didn't say he wants to be traded, but he doesn't seem real averse to the idea of moving to a contender.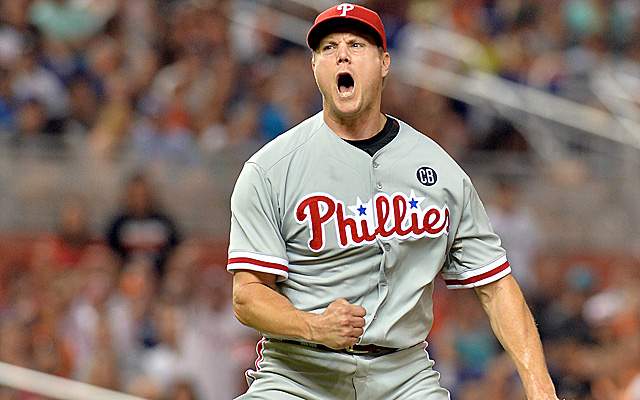 More MLB: Power Rankings | Expert Picks | Latest news & notes | Fantasy news
After closing down the Brewers Wednesday night, Phillies reliever Jonathan Papelbon was apparently asked a series of questions about his feelings on a potential trade here in July. It doesn't sound like it would bother him too much.
"Some guys want to stay on a losing team? That's mind-boggling to me," Papelbon said (philly.com). "I think that's a no-brainer."
So, does he actually hope that he's traded?
"Yes and no," Papelbon said (philly.com). "You know, I came here for a reason ... and I say that because I'm with a group of guys in the bullpen that can do very special things in the future. I've been waiting for that, you know what I mean? It's fun to be a part of that, it really is. We are there finally with our bullpen. So that aspect of it would kind of [stink] to leave. But at the same time, winning is the cure-all of cure-alls."
This is in contrast to at least Chase Utley and a few other Phillies in recent weeks who have expressed a desire to stay in Philadelphia no matter what. Papelbon doesn't seem to have an attachment to the city, like Utley. He just wants to win. One might recall his "I didn't come here for this" comments last season. To each his own, right?
Papelbon, 33, is having a pretty great season and should be attractive to potential suitors. He has 22 saves in 24 chances with a 1.24 ERA. Of course, he's also making $13 million this season and is owed $13 million next year. Add in a $13 million option that vests if he finishes either 100 games between 2014-15 or 55 games in 2015 and there's some significant money left here for a closer.
So that's one obstacle. Inquiring teams should be happy to know Papelbon's approval likely won't provide another.