New York Yankees great Jorge Posada retired after the 2011 season, he recently published his autobiography, and he's letting his opinions fly in a book tour. If it were up to Posada, the Hall of Fame wouldn't allow players such as Alex Rodriguez because of performance-enhancing drugs.
Via CBS New York in an interview that aired Wednesday: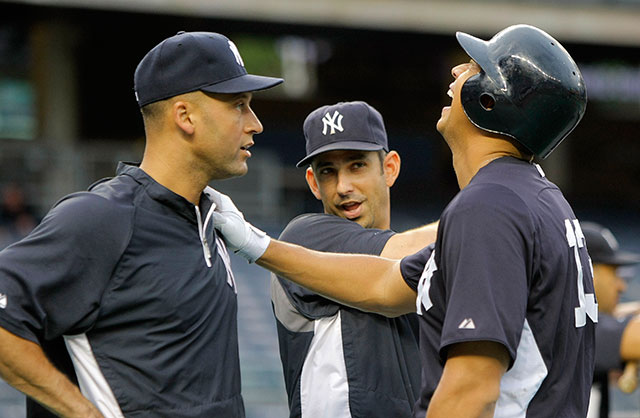 Mark Strassmann: Should players who are known to have used steroids — should they be in the Hall of Fame?

Jorge Posada: No.

Strassmann: No?

Posada: No. No, I don't think it's fair for the guys that have been in the Hall of Fame that have played the game clean.

Strassmann: Even an Alex Rodriguez?

Posada: I don't think it's fair. I really don't. I think the guys that need to be in the Hall of Fame need to be (players) that played with no controversy.

Strassmann: Have you told him that?

Posada: No.

Strassmann: Would he be surprised to hear it?

Posada: Oh, yeah. Yeah.
You might be surprised to hear that Posada also feels that a roiding A-Rod might have prevented him from winning the American League MVP in 2003. Posada finished third behind Carlos Delgado and the winner, Rodriguez, in a vote was really close. A-Rod played for the Rangers that season and later admitted that he used PEDs during his time there. A-Rod also sat out the 2014 season because of a suspension related to Biogenesis. But while we're white-washing history because of PEDs, we're also going to have to erase A-Rod's contributions to the 2009 New York Yankees — which means no World Series ring that season for Posada and everyone else, because they don't win without A-Rod.
Would Posada be willing to fork over his ring? How about all of his earnings from all of his seasons as a teammate of Rodriguez, who was helping the Yankees win games at the expense of guys who were "playing clean"? It's only fair, right?