Jose Fernandez looks big-time in his big-league debut
The Marlins have a star in the making who's only 20 years old.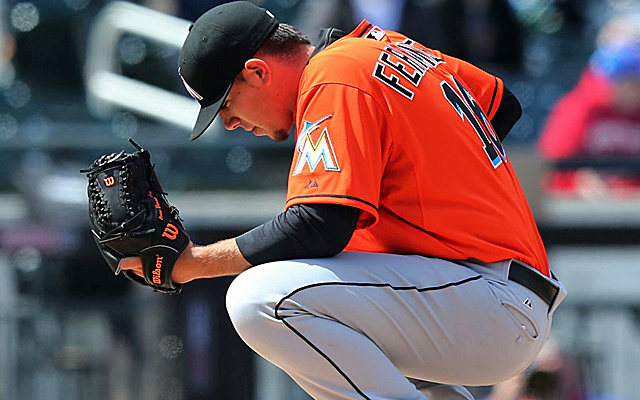 NEW YORK -- A bouncing hit over the third-base bag Sunday by New York Mets reclamation project Marlon Byrd sent the Miami Marlins home to Miami at 1-5 to face an opening day crowd that's expected to be less than a sellout to start their second season at lovely Marlins Park. But all is not headed south for Miami.
A 20-year-old wunderkind named Jose Fernandez provided a five-inning glimpse of the possibilities of the future.
Fernandez is surely only in the bigs after two ill-timed pitching injuries left the Marlins with little choice but to promote their phenom with only A-ball games on his professional resume, but as Marlins execs suspected he might, Fernandez immediately flashed his promise via a repertoire that's equaled by his poise. He amazed Mets veterans, who proved to be little match through his five innings and 80 pitches.
"He didn't really look nervous,'' the Mets' Ike Davis said after the Mets came back to beat the Marlins, 4-3. "He looked like he was having a lot of fun, and that's probably because he was striking us all out.''
If the season after the great Marlins fire sale carries the potential for 90-plus defeats and at least that many growing pains, at least the Marlins can take heart in knowing they have some extraordinary talents, and not just the slugger Giancarlo Stanton , who's started like he's trying to carry the franchise on his big shoulders with strikeout after strikeout and a sub-.200 batting average.
They also have the right-hander Fernandez, the best 20-year-old pitcher on the planet, not to mention a guy with a great story and stomach. He predicted in the Miami Herald and other South Florida outlets that he wouldn't feel nerves for his debut since he's been to hell and back. His escape from Cuba via boat five years ago involved being shot at, jumping out of the boat, and being jailed temporarily. So how could David Wright scare him, he concluded.
Turns out that was pretty sound logic, as Fernandez struck out eight (including Wright once) walked one, and allowed three hits and one run. He became the seventh pitcher under 21 years of age since 1916 to strike out eight in his debut, and the first since David Clyde with the Rangers in 1973, according to the South Florida Sun-Sentinel. Some others included Curt Simmons with the 1947 Phillies, Dave Morehead with the '63 Red Sox, Rudy May with the '65 Angels and Gary Nolan with the '67 Reds. Of more recent vintage, Clayton Kershaw had seven strikeouts in his debut, at 20.
Fernandez led 3-1 before the Marlins' pen blew the game in the ninth inning, but not before he impressed every last Met, and every last scout, in the building.
"He's a No. 1 starter in the making,'' a National League scout said. "He has a great attitude. He throws 97 and has a nasty slider. A nasty, nasty slider. And he's a nice kid.''
The poise was what floored the Mets. That and the repertoire.
The fastball you can't miss; it varied from 92-96 (97 on one gun). But Mets hitters also liked his curveball, slider, and changeup. The changeup is the one he's been trying to develop, but Mike Baxter said it looked like his second pitch of choice, at least against lefties.
"He was so poised. You'd think he was a little nervous. I'm pretty sure he was. But he didn't show it,'' said Marlins veteran Juan Pierre . Pierre said he saw the debuts of Clayton Kershaw and Dontrelle Willis, and likened Fernandez to those two.
Fernandez seemed matter-of-fact afterward. "I was more nervous warming up in the bullpen,'' he said. "I felt like I was pitching in a spring training game.''
The Marlins were expecting him to be pitching in games for Double-A Jacksonville to start the year, and he would have if not for the rare double injury on the eve of the season. Nathan Eovaldi and Henderson Alvarez , who were ticketed to be the Marlins' Nos. 2 and 3 starters, both went down with shoulder trouble the same day, leaving Marlins people little choice.
They already had journeyman Kevin Slowey and Wade LeBlanc in a slow-throwing, underwhelming rotation, and Marlins people knew what they had in Fernandez. Some organizations might not have taken the chance, but this one seems to be a great judge of young, homegrown talent (though not so much of free agents).
Fernandez, a No. 14 overall pick two years ago out of Tampa's Alonso High, was 14-1 with a 158 strikeouts in 134 innings and a sub 2.00 ERA last year as a 19-year-old. They had greatness in their midst, and they couldn't resist.
"We're going into this with our eyes wide open,'' Marlins president of baseball operations Larry Beinfest said. "We think he's going to be competitive right off the bat. If we didn't think he'd be competitive, he wouldn't be here. We understand his age. We understand his service time. We understand everything.''
What they understand most of all is what they have in Fernandez, a rare combination of talent and maturity.
"He gets it,'' Beinfest said. "He's got a presence. He throws strikes, and he wins.''
The only reason he didn't win this one could be chalked up to the Marlins' pen, which blew it against a less-than-overwhelming Mets lineup. But Fernandez got that, too. He didn't blame anyone. And he didn't express disappointment for himself, only for the team.
His debut was nothing short of brilliant, albeit shortened by a pitch limit the Marlins are keeping as a closely-guarded secret. They say they are going to be protective of him, and limit him to 150-170 innings. But those innings may be enthralling, like the second when he whiffed Davis, Baxter and Lucas Duda in succession.
"He's going to come right at you,'' Beinfest said, "and he's going to come at you hard.''
Fernandez looks like a big star on the come. As far as his expectations for the big leagues, he thought the majors would be "a lot bigger.''
That opinion may partly be about the medium-sized crowd at Citi Field (it wasn't quite as big as the announced 29,780). But it may be more about Fernandez's ability to handle it all while still a kid.
They're alive in the NLCS after their Game 4 win over the Dodgers

You never know what you might get from Arrieta, but what we got was brilliance in Game 4

The 2017 World Series begins Oct. 24
There will be a Game 5 after all on Thursday night

Tanaka shut the Astros down in ALCS Game 5 and has overcome a down season and past injurie...

The Yankees wouldn't chase Keuchel's bread-and-butter, those tempting pitches just at the knees...