Jose Fernandez's goal this season: 1.95 ERA
Jose Fernandez posted a 2.19 ERA last season as a rookie at the age of 20. How about a 1.95 ERA for his encore? That's the goal, he says.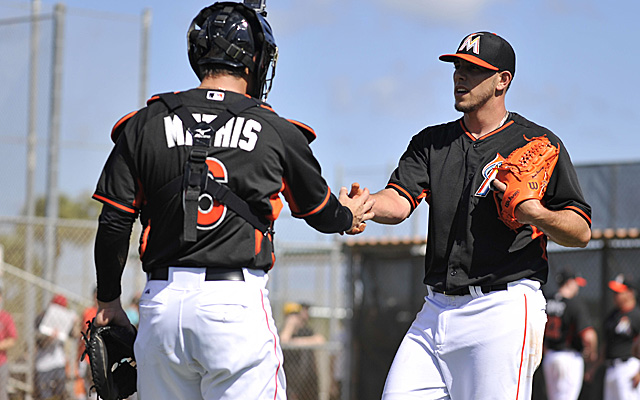 MORE: Spring Training | FA tracker: position players | FA tracker: pitchers
Marlins phenom starter Jose Fernandez won the NL Rookie of the Year last season. Among many other impressive numbers, he sported an outstanding 2.19 ERA -- second in the NL only to Cy Young winner Clayton Kershaw.
The goal this time around is still pretty lofty. From MLB.com:
Jose Fernandez calmly said, "My goal this year is to have a 1.95 ERA." There.

Oh, 1.95? Well, of course? Why not? Why not 1.90?

"I think I can," Fernandez said with an earnestness that is delightful and disarming. His response to his listener's somewhat incredulous reaction was an incredulous reaction of his own, as if to say "What, you don't think I can?"
I'm definitely not going to count him out. Keep in mind the incredible leap Fernandez made last season. Not only was he a rookie, he would've been new to Double-A. In 2011, Fernandez made one start in Rookie Ball and one start in Low-A. In 2012, he started 14 games in Class-A and 11 games in High-A.
And last year he leapt all the way to the majors at just 20 years old, making the incredibly rare jump past both Double-A and Triple-A. And he went out and dominated the NL, finishing third in Cy Young voting behind established aces Kershaw and Adam Wainwright.
Oh, and Fernandez is also a wizard, just ask Troy Tulowitzki:
So, yeah, I'm not gonna count him out on any goal he sets.
Stanton swiped at his old team on his way out

Your one-stop shop for all things MLB Winter Meetings-related

Matt Harvey could be on his way out of New York
The Nationals are looking to improve on the edges of their roster

Ellsbury is due at least $68 million over the next three seasons

Wright was arrested at his home Friday