Jose Reyes wanted to be an All-Star in the Citi, now works at coming back
Jose Reyes is working his way back from a badly sprained left ankle. But dreams of returning to Citi Field for the All-Star Game are out.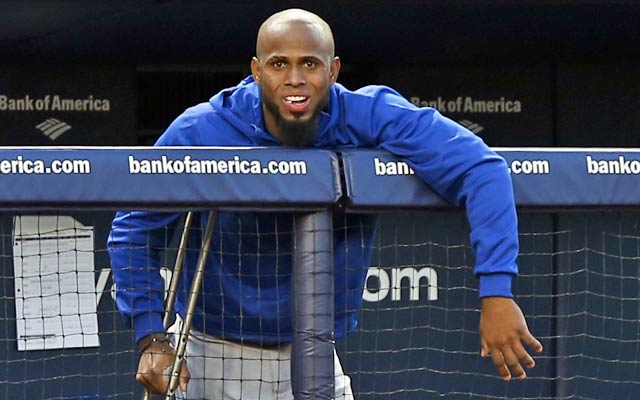 NEW YORK -- Jose Reyes would have loved to be able to play Friday night at Yankee Stadium, but the New York ballpark he really wanted to visit this year was Citi Field.
Friends of Reyes say the former Met badly wanted to return to Queens for the July 16 All-Star Game, a hope that became unlikely when Reyes badly sprained his left ankle on April 12. Although Reyes could return ahead of the Blue Jays' original three-month estimate, the best case still wouldn't have him back playing before the latter part of June.
"I don't want to put any day on it," said Reyes, who was in uniform but very limited in what he could do Friday. "The big step is going to be running. Maybe next week they'll let me start jogging."
Reyes made it to four All-Star Games in his nine seasons with the Mets, and he came to love the area so much that he still has a home on Long Island. Reyes has been staying at home, but will travel back to Toronto with the Blue Jays after this weekend, as he is now ready to step up his rehab work.
Reyes said he has watched every Blue Jays game on television. He said he has not watched the Mets.
"Why do I have to watch Mets games?" he asked. "I don't play for the Mets anymore."
He played just 10 games for the Blue Jays before getting hurt. Their season wasn't off to a great start with him (they were 4-6), but it went much further downhill without him.
Even now, despite a four-game winning streak that the Jays took into Friday's game against the Yankees, there are enough problems that even the prospects of a Reyes return aren't enough to turn this team into a surefire contender.
But getting their leadoff man and most dynamic player back sure won't hurt.
"He's one of the most exciting players I've ever seen," teammate Adam Lind said. "Anything you want to say, he can do."
What the Blue Jays would have liked to see him do is stay healthy. Reyes wanted that, too, this year more than ever.
Derek Jeter has started at shortstop for the American League in six of the last seven All-Star Games, but he's spending at least the first half of this season on the disabled list. The opportunity could have been there for Reyes to return to Citi Field as an All-Star starter, but not now.
Now, he can only hope that the Blue Jays still have something to play for when he returns. Now, he can only show up at Yankee Stadium and enjoy spending time around his teammates.
"I love baseball," he said "I love to be on the field."
He really wanted to be on Citi Field in the middle of July.

It won't happen now.